A VEGETABLE WITH BENEFITS…
Even though Spring is typically the best season for fresh asparagus I couldn't resist the beautiful spears of this amazing member of the lily family at the market this weekend. Asparagus is extremely high in B Complex vitamins (that ignite our feel-good neurotransmitters), viamin C, and vitamin E, which are essential for a healthy sex drive, yes, keep reading…
According to AnneMarie Colbin, a Certified Health Education Specialist and author of Food and Healing
, a lack of substances called histamines inhibits circulation. Since histamine production seems to be triggered by folic acid and other B vitamins in either blood or tissues, asparagus has the ability to help dilate blood vessels which increases blood and oxygen flow. That said, it's shown to be useful for vascular problems such as hypertension and arteriosclerosis and makes a wonderful aphrodisiac!
Asparagus can make for a simple healthy snack or nice addition to a great meal. Try it raw and chop into your favorite salad or dip it into some hummus. Steam it and toss with olive oil, sea salt with a splash of lemon. Or enjoy as the base of a simple and delicious creamy soup served warm or cold like I did this weekend.
Recipe
The Goods:
Special note: Thank you to my wonderful sister-in-law, Lisa Roman, for submitting this delicious and simple recipe that's chock full of flavor!
The Magic: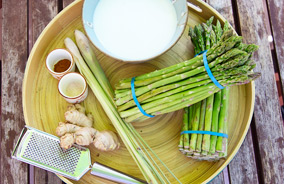 STEP 1:Collect all the ingredients. Wash the asparagus and trim the ends. Cut into 1-inch pieces. Bring a pot of water to a raging boil. Throw in the asparagus and cook for 5 minutes. When slicing the lemon grass, be sure to peel off the outer layers of the lemongrass before slicing.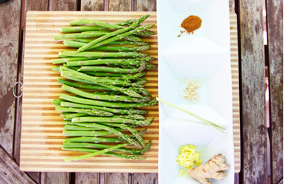 STEP 2:Drain the asparagus and toss into a blender along with the rest of the ingredients above. Blend on a low speed for 1 minute and then on a high speed for 2 minutes. When blending, don't secure the top of the blender all the way - the heat from the asparagus will blow the lid off from built up pressure.
Mindful Morsel
Happiness reveals itself when we are at peace with ourselves.