THE SEASON FOR SOUPS AND STEWS
This chunky soup is a tasty one-dish meal that is as easy to prepare as it is to eat. As the temperature begins to drop and winter season nears, I like to make soups and stews in bulk to freeze and stash for later use. This is one of them!
I typically pair beans with an array of greens in my soups because it is an excellent way to increase iron absorption. Iron is not made in the body and must be absorbed from what we eat, so experimenting with ways to support this process is key especially for vegans and vegetarians (here is another example). It's the season for soups and stews, so let's get stashing!
Some veggies rich in iron:
Greens, all kinds
Broccoli
Sweet Peas
Brussel Sprouts
Kale
Bean Sprouts
Tomatoes
Potatoes
Green Beans
Corn
Beets
Cabbage
Recipe
The Goods:
2 cups red lentils, rinsed
2 celery stalks
1 onion, yellow or white
2 carrots
1 Tablespoon fresh grated ginger
3 garlic cloves, minced
1 1/2 teaspoons ground cumin
1/2 teaspoon ground coriander
5 cups vegetable broth
2 Tablespoons grapeseed oil
3 cups fresh mixed greens (I used a combo of red winter kale, swiss chard and spinach)
sea salt (optional)
fresh thyme (optional)
The Magic: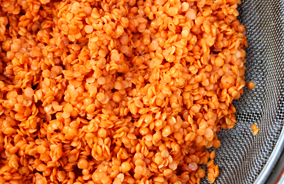 STEP 1: Rinse red lentils thoroughly and check for small stones. Heat grapeseed oil in a sauté pan over medium.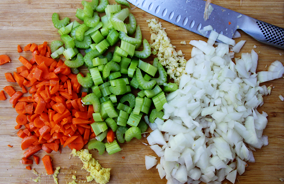 STEP 2: Once sauté pan is warm, add minced garlic, carrots, celery onions and grated ginger. Cook until onions are translucent. Next add the spices, vegetable stock and lentils and bring to a simmer. Cover and let cook for 30-35 minutes until lentils are soft. While lentils are cooking, add the mixed greens to a steamer and cover to wilt for approximately 2 minutes.