THREE PRODUCT LOVES IN ONE EASY RECIPE
Finding high quality ingredients for reasonable prices can be simple. It really boils down to knowing where to look. I've combined a few items I use often into one recipe and summarized their benefits and versitility below.
The first item is organic microgreens from Trader Joes. They are deliciously crunchy sprouts that add great flavor and a big dose of Vitamins A & C to any meal. A great nice addition to sandwiches, pizzas, salads, sweet potatoes, soups and dips. Since eating begins with the eyes, you can also use them to spruce up any dish, like this!
Next on the list is bread. I enjoy bread as long as I know what's in it and I'm getting the most nutritional value from it. I find that to be true with sprouted grain breads. With this kind bread, you are basically getting a slice of plants since sprouts are essentially vegetables loaded with vitamins and minerals. When grains are sprouted they are much easier for the body to digest making the nutrients extremly absorbable. You can find this at any healthfood store.
Finally, there's Celtic Sea Salt Seaweed Seasoning made with organic and wild crafted sea vegetables. This gift of goodness gives you 250% of iodine per serving. Iodine is a mineral used by the thyroid gland to produce hormones that regulate all key metabolic functions. It's also great vegan-friendly way to add the fifth flavor – umami, a pleasant savory taste that's not fishy. Use it like you would use regular sea salt.
That's it! I hope this sparks some ideas to try them for yourself!
Recipe
The Goods:
1 slice sprouted grain bread (I use Ezekial Brand)
1 organic Persian cucumber, sliced
1/2 or 1 whole avocado, mashed
1/2 cup organic micro greens (purchase at Trader Joe's)
Celtic sea salt seaweed seasoning (can be found online here)
The Magic: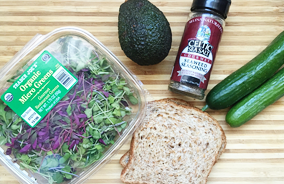 STEP 1: Gather ingredients. Toast bread and use a spoon to scoop out avocado.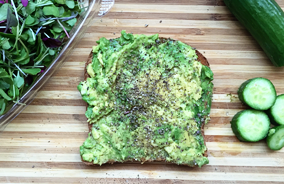 STEP 2: Spread across bread, add cucumbers, sprouts and seaweed seasoning. (purple onion and tomatos are a nice additions too). Enjoy!