TACOS FOR TUESDAY OR ANY DAY you need to use up your fresh veggies. As a huge taco lover I enjoy creating different (and sometimes random) combinations. For the recent Cinco de Mayo holiday, I had an abundance of veggies on hand that I needed to use, so I threw them into the taco making mix before they went bad. I do have to say that this combo turned out amzingly well. Many times I find myself buying an abundance of veggies and sometimes have a hard time getting through them in time. To avoid this, I came with a 'use up all my veggies taco filling' routine. That's where cauliflower rice came into the mix as with chopping up anything that seemed like it was on the verge of going downhill.  Since I always have black beans on hand and spices like cumin and paprika, it's easy to toss in most any veggie you choose! I simply chop, sautee, heat and sprinkle with spices.
If you ever are in search of finding ways to use extra produce, instead of tossing them, consider mixing them into a taco! For this particular recipe, I recommend pre-making the cilantro lime cauliflower rice recipe for the purpose of saving time. Enjoy!
---
Recipe
The Goods – The Filling
2 Tablespoons olive oil
6 spring onions, trimmed and sliced
1/2 cup mixed cherry tomatoes, halved
1/2 cup purple cabbage, shaved and chopped
1 seranno pepper, thinly sliced
1 small zucchini, diced
1/2 teaspoon cumin
1/4 teaspoon smoked paprika (or regular paprika)
1 -15 oz can black beans
The Goods – The Toppings
The Goods – The Tortillas
8 – 10 organic corn tortillas
The Magic: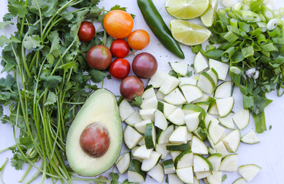 STEP 1: Prep the veggies. Trim ends from green onions and slice thinly, half the cherry tomatoes, chop the zucchini and slice the seranno pepper. Heat a medium-sized pan with olive oil and add green onions, zucchini and seranno pepper cook for 5 minutes or until zucchini and pepper is tender. Add the black beand and spices and lower heat.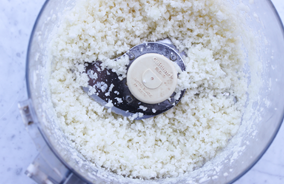 STEP 2: While mixture is cooking, warm the tortillas over the stovetop or in a pan over medium heat until warm - approximately 30 - 45 seconds per side. Once tortillas are warmed, spoon cauliflower rice into tacos, then add the black bean mixture. Top with tomatoes, avocado, cilantro and purple cabbage. Splash with a fresh lime and your favorite hot sauce and/or sour cream/cashew cream.