A SWEET, ROOT VEGETABLE WITH BENEFITS
It is the time for winter soups and stews! And sweet potatoes are a great addition. They are a good source of potassium and vitamin B6, which help support a wide range of activities in our nervous system. The body tends to use a lot of potassium and other minerals during times of stress, so these powerful root veggies can be a great support to our bodies in maintaining balance. They also boost our serotonin levels, a "feel-good" neurotransmitter that makes us feel calm and happy.  And during the cold winter months an extra dose will do you good.
Sweet potatoes have a lot going for them. They fill us up, give us energy, and leave us satisfied and satiated. They have a lower glycemic index and are higher in antioxidant value than conventional potatoes. The most nutritious varieties have orange, deep orange flesh, and are often marketed as yams.
Now, combine these root vegetables into a delicious chili with beans, spices and citrus zest and you'll have yourself a big bowl of stress reducing, blood sugar balancing goodness that makes you feel calm and happy. Now that's sweet! I hope you enjoy.
Recipe
The Goods:
2 Tbsp coconut oil or olive oil
1 large chopped onion
1 Tbsp chili powder
1/2 tsp ground cumin
2 cups vegetable broth
2 medium sweet pototoes, peeled and cut into 3/4″ cubes
2 (14 and1/2-ounce) cans of diced tomatoes in juice
1 (15 and 1/2-ounce) can black beans, drained and rinsed
2 tsp. orange zest
Salt and pepper to taste
The Magic: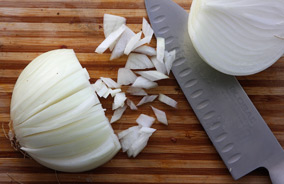 STEP 1:Heat the oil in a saucepan over medium heat. Add the onion and cook, stirring often, until softened about 5 minutes.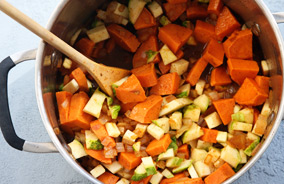 STEP 2:Stir in the chili powder and cumin, then add the broth and sweet potatoes (I added some pattypan squash too) and stir well to combine. Bring the mixture to a gentle boil, then cover the pan, reduce the heat to low, and simmer until the potatoes are almost tender, about 15 minutes. Add the tomatoes and beans and continue to simmer, uncovered, until the mixture is heated through, and slightly thickened, about 15 minutes more. Stir in the orange zest and season to taste with salt and pepper.
Mindful Morsel
Relaxation is essential for long term health. Stress plays a dramatic role in blood sugar balance. Nourishing ourselves and practicing relaxation techniques helps reverse imbalances. Try practicing a daily technique that will help to heal your body and mind. To do this, simply take 5 deep belly breaths throughout the day.