GOOD FORTUNE LIES AHEAD
Each year I try to create a new way to enjoy the traditional "lucky foods" to give a healthy boost and a fun start to the new year.  Southern tradition says when you consume black-eyed peas on New Year's Day, you will receive good luck. They have a very distinct taste that I appreciate, but also the main reason I consume them only once a year. This year, however, I created a simple hummus and added sun-dried tomatoes to the mix to create a richer, sweeter flavor. It turned out very favorable! Combine the peas with greens for good fortune and you're looking at an exciting and prosperous year ahead! Cheers to creating a clean, thriving, happy and healthy new year. Happy 2014!!!
Recipe
The Goods: Black-eyed Pea Hummus
2 cups black eyed peas, cooked
2 Tbsp lemon juice
3 Tbsp extra virgin olive oil
3 Tbsp Tamari, wheat-free soy sauce
3 Tbsp tahini paste
2 cloves garlic
1/2 cup sun-dried tomatoes in olive oil
1/4 cup water (or more)
Filling options: scallions, grated carrots, sprouts, avocado, black olives, scallions
The Goods: Wraps
1 bunch of collard greens, blanched
To blanch the collard greens, place 3-5 at a time in the boiling pot of water for approximately 60 seconds. Gently remove with tongs and set on a plate to cool. Continue to do this until all of the greens are blanched.
The Magic: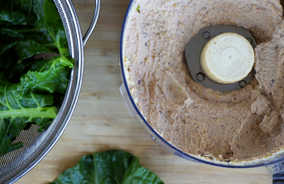 STEP 1: In a food processor fitted with the "S" blade, combine cooked black-eyed Peas, water, lemon juice, garlic, tahini, and Tamari and process until blended. Slowly add the extra virgin olive oil. Taste test and add more water or Tamari if needed.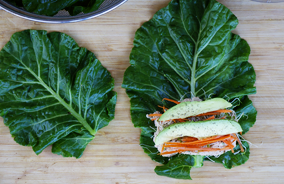 STEP 2: To assemble the wrap, place a green onto a cutting board. Place a few scoops of the hummus on the bottom (stem-end) of the green. Add your other filling ingredients on top. Fold the long ends in slightly (about an inch on each side) and then tightly roll. Refrigerate right away or cut in half and serve. When slicing the wraps in half you may prefer to cut out the thick stem.