A DELICIOUSLY RICH COMBO
This recipe is full of phytonutrients and best incorporated as a 2-ounce daily treat.
I used 100% cacao nibs in this recipe, which are naturally unsweet. Nibs do not melt when heated, so if you will be using them, a high-speed blender is needed to pulverize well. If you are unable to locate the nibs at your local health food store, you can use chocolate chips (at least 70% cacao), which also do not require a blender.
Cacao nibs run about $11 for an 8 oz. package which is more than enough for this recipe. Since nibs are incredibly versatile and lend themselves to both sweet and savory recipes, use them as you would nuts or chocolate chips. Bake into breads and cookies, sprinkle over oatmeal, top over roasted vegetables, toss into trail mix and salads, incorporate in meat rubs and sauces…the possibilities are endless!
Chocolate encourages your brain to produce feel-good endorphins because it has the same chemical, phenylethylamine (PEA), that your body produces when you are falling in love. Now, go spread some love!
Recipe
The Goods:
1 cup roasted almond butter (or plain)
1/2 cup agave nectar
1 1/2 cups coconut oil
1 tsp sea salt
1 cup cacao nibs
1 cup roasted almonds, broken into small pieces
The Magic: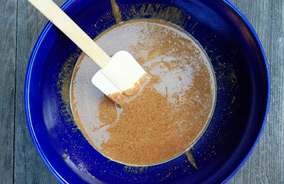 STEP 1: For the almond butter mixture, mix almond butter, 1/4 cup agave, 1 cup coconut oil, and sea salt in a medium bowl. Keep in a warm place until ready to use.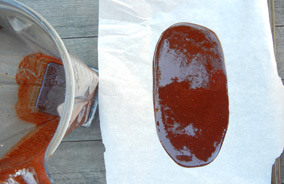 STEP 2: For the chocolate mixture, blend cacao nibs, remaining 1/4 cup of agave nectar, and remaining 1/2 cup of coconut oil in a high speed blender until smooth. (*Special note: If using chocolate chips, combine 1 cup of chips with coconut oil in a saucepan. Leave out the agave nectar and stir over low heat until the chips are thoroughly melted.) Spread half of the cacao mixture on parchment lined sheet pan to create a thin layer. Place in the freezer for 15 minutes to harden.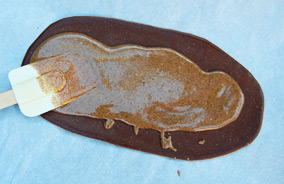 STEP 3: Spread almond butter mixture over hardened cacao layer. Then spread remainder of cacao mixture over almond butter; place in freezer to harden. Top with chopped almonds and drizzle with remaining chocolate or continue layering chocolate and almond butter to reach a desired bark thickness. Place in the freezer one last time to harden.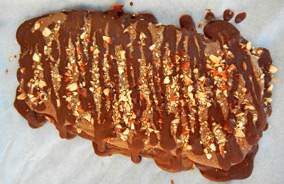 STEP 4: Break the bark into pieces. Keep cold in freezer until you are ready to serve, gift or share. Enjoy!