HEARTY MUFFINS WITH TASTY TOPS
In sharing some love for my carrot cake affinity and for my inner athlete and hearty snack lover appetite, I went nuts with these muffins – literally and figuratively. Let me just say that these carrot cake creations aren't for the faint at heart. They are tailored for the "give me the real deal" nut, seed and carrot lovin' energy seekers that want a muffin with some clean fuel for that beautiful burning body!
Flax seeds with their abundance in omega-3's (an essential fatty acid) play an important part in the metabolism of fat in the body. Simply adding 1 Tablespoon daily is helpful for anyone wanting to shed that muffin top around the waistline. Add the vitamins and minerals to the mix from whole food sources and you've got yourself some tasty bountiful beauties that'll do your body good.
I hope you enjoy!
Recipe
The Goods: Carrot Cake Pistachio Nut Muffins
2 Tbsp ground flax meal
1 cup almond flour
1/2 cup oat flour (I used gluten-free oats that I blended into flour)
1 tsp baking soda
1 ripe banana
1 cup carrots, shredded
3 Tbsp maple syrup
3 Tbsp almond milk
1 tsp cinnamon
1 tsp vanilla
1/4 cup pistachios, chopped (or nut of choice)
coconut oil for muffin pan
sea salt, dash
The Goods: Sweet Cashew Cream
The Magic: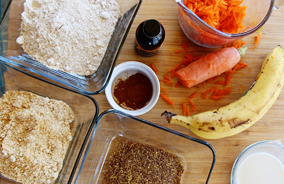 STEP 1: Pre-heat oven to 350 degrees. In a large bowl, mash the banana well. Add the vanilla, almond milk, maple syrup and mix with a fork. In a medium bowl mix dry ingredients.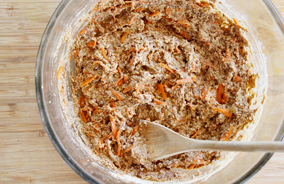 STEP 2: Fold dry ingredients into wet ingredients. Next, lightly fold the grated carrots and pistachios into the mixture until fully incorporated. Put batter into muffin tins coated with coconut oil. Bake for about 30 minutes or until fork comes out clean. Set aside 10 minutes to cool. Spread with sweet cashew cream and enjoy!