A WHITE BREAD THAT'S GOOD FOR YOU…
Though fall is the peak season for this versatile crop, cauliflower is available year round to create a delicious flavor profile for some of the most unassuming food items – like bread, rice and mashed potato-like masterpieces. The cauliflower along it's cruciferous cousins cabbage, kale, collards, Brussels sprouts and broccoli are named for their florets, which have equally spaced petals in the shape of a cross – hence the Latin word crucifer, meaning "cross-bearer."
This particular group of veggies has a special chemical makeup with suffer-containing compounds proven to have powerful immune-boosting effects and show anticancer activity. Some studies show that with a 20 percent increase in cruciferous veggie consumption there is a corresponding 40 percent decrease in cancer rates.
To maximize the benefits of any cruciferous beauty, chew well, blend or chop to crush their cell walls. This allows for enhanced production of the beneficial compounds to release enzymes that catalyze a reaction in the body. According to Joel Fuhrman, MD author of Super Immunity "cruciferous veggies are not only the most powerful anticancer foods in existence; they are the most micronutrient-dense of all vegetables." So, go ahead, give this new and improved version of white bread a try! It's delicious.
Recipe
The Goods
1 head of cauliflower
1/4 cup almond meal
1/4 cup nutritional yeast
1 tsp garlic powder
1 tsp sea salt
1 tsp oregano, dried
1 large organic egg
Preparation ideas: Use as a pizza crust and top with sautéed spinach, tomato, fresh basil and roasted garlic, create a wrap with your favorite veggies and hummus or make a simple quesadilla with your favorite fixin's.
---
The Magic: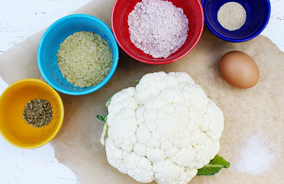 STEP 1: Gather all the ingredients the recipe. Preheat oven to 400 degrees.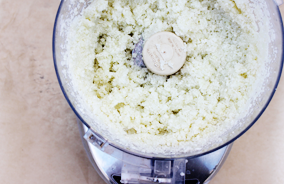 STEP 2: After you rinse the cauliflower pulse in batches in a food processor until a rice-like texture is achieved.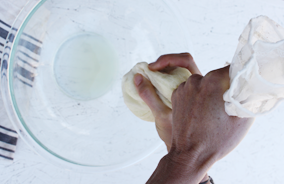 STEP 3: Place the rice-like cauliflower into a clean kitchen towel, cheese cloth or nutmilk bag and drain out the water by squeezing until dry.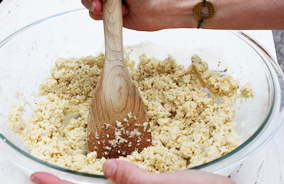 STEP 4:: Add the drained cauliflower pulp to a mixing bowl and combine the remaining ingredients. Once all the spices have been thoroughly combined add egg and mix well.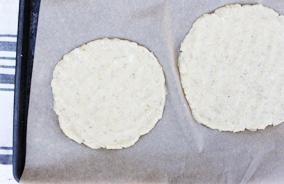 STEP 5: On a baking sheet lined with parchment paper place two balls of cauliflower dough (about the size of a tennis ball) on to baking sheet. Press the dough out until it resembles the thickness of flatbread you desire. Cook for 15 minutes or until slightly browned around the edges on on the bottom. Flip the flatbread over to brown the other side for an additional 5-7 minutes. If you enjoy your flatbread as the base for pizza, increase the oven temp to 450, add your pizza toppings and cook for 5 additional minutes or until toppings have baked.