TABBOULEH WITH A TWIST…
It's been close to 90 degress (approx 32 Celcius) this week in San Diego so I've been experimenting with meals that require little to no cooking. I had a head of cauliflower on hand, kalamata olives, tomatoes, some herbs and was in action to create a salad that gave my taste buds great satisfaction. Tabbouleh is traditionally made with bulgur (cracked wheat) that is soaked in water for thirty minutes and drained. This grain-free version uses finely chopped cauliflower.
Even though this crucifer may lack the bright green color of broccoli, kale and other cousins, it's far from lacking in nutritional value and flavor. Cauliflower helps purify the blood, is helpful in cases of asthma, kidney disorders, bladder disorders, high blood pressure, and constipation. In addition, its sulfur contains compounds that increase the liver's ability to produce enzymes that neutralize toxic substances which makes it a great detoxifier.
I enjoyed this simple salad alongside white bean hummus and pita bread. You can add chopped cucumbers or use pomegranate seeds instead of tomatoes. Try tossing with you favorite greens (I used a power greens mix of organic spinach, red and green chard, and organic baby kale), add feta cheese or a splash of tamari (soy sauce) and serve as a main dish for lunch, an appetizer, or afternoon snack.
Recipe
The Goods:
1 head of cauliflower
cherry tomatoes, handful
1 clove garlic, minced
3 scallions/green onions
1/2 cup Kalamata olives, pitted
1/3 cup lemon juice
3 Tbsp extra virgin olive oil
parsley, handful chopped
sea salt and pepper to taste
The Magic: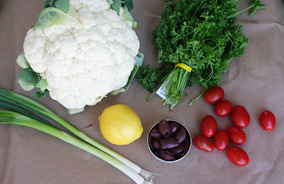 STEP 1: Trim the florets from the cauliflower and discard stalks and stems. Place florets in a food processor, and pulse until finely minced and approximately the size of couscous. Transfer the cauliflower to a large bowl add tomatoes, parsley, olives, onions and set aside. In a bowl, whisk together the lemon juice, olive oil and minced garlic. Toss dressing with the salad and add salt and pepper to taste.
Mindful Morsel
Cauliflower is available throughout the year, but it's flavor is at it's peak during the cold months when the frost helps to develop a sweeter flavor. It's available in green, orange and purple.