A CHOCOLATE LOVERS BREAKFAST
This extremely simple chocolate and chia combo is simply divine and a cinch to whip up. This breakfast of chocolate champions delivers a thick and creamy texture full of vitamins A, B, D and E and a host of minerals such as calcium, magnesium, niacin, potassium and iron.  As you can see, Chia, the Mayan word for strength, is a tiny energy-boosting seed with whopping benefits. To put it into perspective, here's a breakdown per gram (1 tbsp of chia is roughly 10 grams):
8x more omega-3 than salmon
6x more calcium than milk
3x more iron than spinach
15x more magnesium than broccoli


---
Recipe
The Goods: Pudding
2 tbsp chia seeds
1 tbsp raw cacao powder
1/2 cup vanilla almond milk
1/2 cup coconut milk
The Goods:  Topping ideas
coconut flakes
almonds, chopped and toasted
cacao nibs
berries
bee pollen
*Refrigerate the chia pudding overnight for best results. Add toppings just before eating.
The Magic: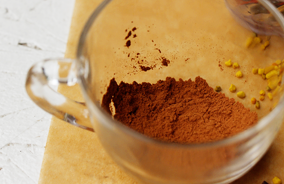 STEP 1: Gather ingredients. Combine cacao, coconut milk and almond milk in a blender. Blend until thoroughly combined.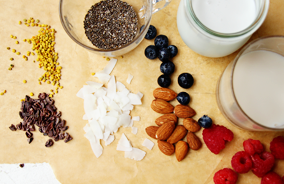 STEP 2: Transfer chocolate milk into a bowl with chia seeds and set in the refrigerater for a couple hours (or overnight). Seeds will expand and turn into a creamy texture. Top with remaining ingredients. Enjoy!