A FRESH BURST OF FLAVOR
A simple dressing for crisp lettuces, avocados or even rice! This light and flavorful dressing will offer a zip of flavor for whatever suits your fancy.
Recipe:
The Goods
1/2 cup fresh cilantro leaves, loosly packed and chopped
2 tablespoons fresh lemon juice
2 teaspoons fresh ginger, minced
1 garlic clove, minced
1 teaspoon honey
2/3 cup grapeseed oil
sea salt to taste
The Magic: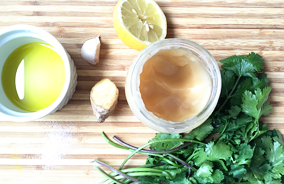 STEP 1: Gather all ingredients together.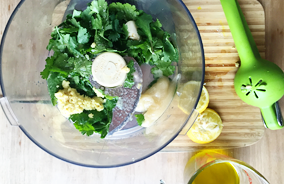 STEP 2: Add all ingredients to a food processor except grapeseed oil and process until smooth. While food processor is running, pour grapeseed oil through food chute in a slow, steady stream. Process until smooth. Makes about 3/4 cups.