THIS CRUNCHY AND VERSITLE WINTER VEGGIE, is a cruciferous crop I use with many things year-round round in soups as steaks to even rice! It's magical anti-inflammatory and nutritional abilities range far and wide offering an array of benefits from fighting cancer, improving brain health (due to it's great source of the B vitamin choline), to boosting heart health with a nice dose of Vitamin K ensuring healthy blood circulation, while supporting bone health by producing collagen needed for new mineralized bone tissue. It's also pretty savvy in and creating profound health improvements resulting from rebalancing estrogen levels too.
The fresh and crunchy taste of this rice-like replica makes for a great addition to most any meal.  A regular helping of this bodaciously fresh mass of beauty gives your body a big boost with a very wide range of benefits. Enjoy in heaps!
---
Recipe
The Goods
1 large head cauliflower, separated into 1-inch florets
3 tablespoons olive oil
1 medium onion, finely diced
2 tablespoons fresh cilantro, finely chopped
Juice of 1/2 lime
dash of sea salt
The Magic: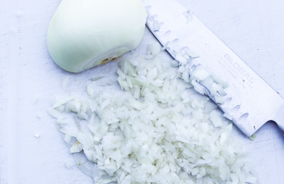 STEP 1: Remove the cauliflower florets and seperate into medium sized pieces and chop onion. Set aside.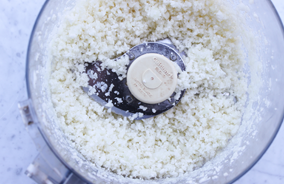 STEP 2: Place the florets into a food processor in 3 seperate batches. For each batch pulse until the mixture resembels rice.
STEP 3: In a medium-sized skillet, heat the olive oil, add the onions and cook until onions are golden brown - approximately 8-10 minutes. Add the cauliflower to the skillet and stir to combine well. Cook until the cauliflower has softened - approximately 10 minutes. Transfer the cooked cauliflower/onion into a mixing bowl - add the chopped cilantro, fresh lime juice and season with sea salt. Serve warm or cold.