A SIMPLE & FLAVORFUL TACO…
Experimenting with herbs and discovering ways to turn them into tasty meal additions is something that peaks my interest. Many herbs when incorporated into dishes can act as a sodium replacement while adding an abundance of flavor and loads of nutrition. While cilantro (sometimes called fresh coriander leaves) seems to come with mixed reviews for taste due to it's often described "soapy-like" flavor,  it holds high standards for generous health benefits. The website whfoods.org describes it's valued benefits in different parts of the world. In certain areas of Europe, coriander leaves have traditionally been referred to as an "anti-diabetic" plant. In parts of India, it has traditionally been used for its anti-inflammatory properties. In the United States, coriander leaves have been studied for their cholesterol-lowering effects.
For those on the fence with the flavor of cilantro, however, it seems as though the Journal of Agriculture and Food Chemistry* discovered that by actually crushing the leaves it sped up the rate plant enzymes broke down the molecules that make some of us sensitive to it's flavor. Therefore, pureeing cilantro creates a milder flavor making it a nice option for a pesto-like sauce.
I'm currently growing cilantro (fresh coriander leaves) in my garden. Interestingly, if you lightly harvest cilantro for its leaves, you can let it continue growing to produce seeds known as coriander seeds. These seeds offer very different flavor than the leaves that are sweet and toasty and considered a spice. More information on this will be saved for a future post. This week I decided to whip up a cilantro pesto that is really simple and combined it with white beans. Lo and behold, a great taco filling was discovered! I hope you enjoy.
 *J. Agr. Food Chem. 58, 1093–1099 (2010)., &
Cilantro Pesto & White Bean Tacos
The Goods: Pesto
2 cups of cilantro leaves (aka coriander leaves)
1 cup walnuts
3 garlic cloves, minced
1 teaspoon black pepper
sea salt to taste
1/2 fresh lemon, juice only
extra-virgin olive oil
The Goods: Beans and Tortillas
1 (29 ounce) can of cannellini beans – white kidney beans
8 organic corn tortillas
grapeseed oil to lightly coat skillet
1/2 cup of your favorite salsa or a delicious homemade option
Top with purple cabbage, tomatoes and jalapeno's for extra color and kick.
The Magic: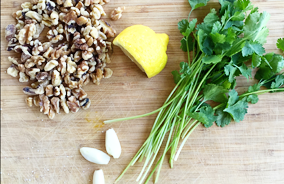 STEP 1: Prep ingredients for the cilantro pesto.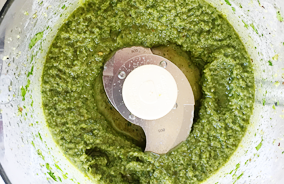 STEP 2: In a food processor, combine walnuts, cilantro, garlic, lemon juice, sea salt and black pepper. Slowly add enough extra virgin olive oil to make a thick pesto. Puree until smooth.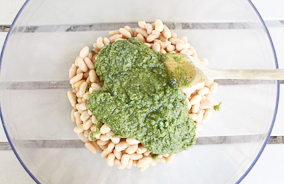 STEP 3: Drain the white beans. In the medium mixing bowl, gently combine white beans and pesto.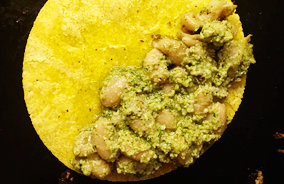 STEP 4: In a skillet (I used cast iron) lightly coat with grapeseed oil over medium-high and lay a tortilla insdie. Place 1/4 cup or more of the pest and white bean mixture on half of the tortilla. Fold tortilla in half and brown each side. The tortilla will begin to turn crispy like a taco. Repeat with each tortilla. Serve with your favorite salsa or top with green chilies and fresh cilantro!