INGITE A DELICIOUS SPARK OF TART in your mouth with these tasty bliss balls perfect for a dose of mid-day sweet or Cinco de Mayo treat!
The citric acid content in sweet limes is lower than lemons making them a sweet option for a dessert with a little kick. However, sour limes equal the 'umph' in tart taste and they both act as powerhouses to bring out flavor in foods. And adding the zest brings the flavor home.  The zest is prepared by scraping or cutting from the outer skin of this unwaxed organic citrus fruit.
Combine the lime with the delicate, sweet and nutty flavor of coconuts and it's match made in heaven! Coconuts are a source of saturated fats found in plant foods that is good for you! The difference between the saturated fats in coconut verses animal foods is that coconuts are composed of medium chain trigylcerides (MCT) which transport straight to your liver and actually help boost your metabolism and assist in weight loss.  Saturated fats from animals foods on the other hand, are composed of long chain fatty acids which is the predominate form of fat in the American diet. Long chain fatty acids promote lipid accumulation and insulin resistance.
Adding healthy saturated fats like coconuts are great to be adding into your diet with an added bonus of supporting a balanced mood and can increase your ability to manage with stress.
---
Recipe
The Goods
1 cup almonds
4 Tbsp raw coconut oil
1 organic lime, juice and zest
2  cups organic unsweetened dried coconut flakes
3 dates, soaked and pitted (add more dates if you prefer extra sweetness)
1 tsp vanilla extract
pinch of himalayan salt
The Magic: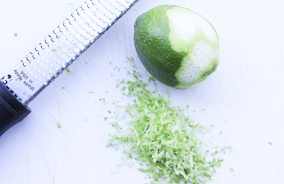 STEP 1: Using a zester or microplane, scrape the outside of the lime to remove the peel. Set aside.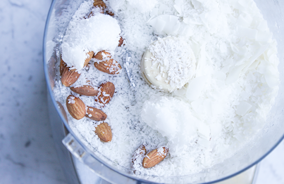 STEP 2: Place remaining ingredients in a food processor (except 1/2 cup of dried unsweetened coconut). Pulse for a coupe of minutes until it reaches a dough-like consistency. With your hands, roll the 'dough' into mini balls (approximately 2 teaspoons in size). This recipe makes about 30 balls.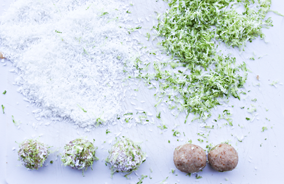 STEP 3: Place the lime zest and remaining coconut flakes on a cutting board. Roll the balls in the coconut/lime mixture. Refrigerate for up to 4 days or freeze to enjoy for a month!