A SOOTHING SMOOTHIE…
As we're unwinding from a food-filled holiday weekend, I decided to create a nourishing smoothie this morning to help myself recalibrate. With that said, I located some ingredients that would help soothe the digestive tract and relieve excess gas and bloating from all the fun party festivities. Though many would believe the post-Thanksgiving fatigue may be attributed to tryptophan found in turkey, it's typically due to overeating and alcohol consumption from this special day of thanks.
With an extra bag of cranberries on hand, I whipped up a tasty concoction with fresh ginger and a few other ingredients to do the trick. This combination helps support digestion and detoxifies the body while offering a vast array of phytonutrients from the fresh (or frozen) cranberries.
I hope you enjoy!
*For the second version of this recipe, I added a handful of fresh spinach that went completely unnoticed, besides the color, of course.
Recipe
The Goods
1 cup cranberries, fresh or frozen
1 peeled banana, frozen (or add ice cubes)
2 oranges, peeled and divided in half
1 inch knob of ginger, peeled and chopped
1/4 teaspoon cinnamon
1 teaspoon vanilla extract (optional)
1 cup greens (optional)
The Magic: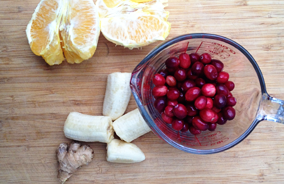 STEP 1: Add all ingredients to a high speed blender.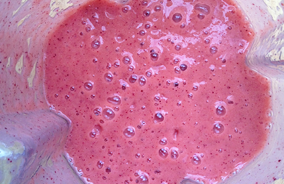 STEP 2: Blend until smooth and creamy. Add ice cubes if needed. Yields 3.5 cups.