I RECENTLY RETURNED TO SAN DIEGO after visiting my family for the holidays I've decided to ease into making some small changes to my routine in the coming year, personally and professionally.   I love creating things – meaningful relationships, art, new experiences, photographs, fun, adventure, ways to learn and grow, and of course, recipes! Anything that will allow me to express myself in different ways. Most times for me, it's not often through words (never considered myself much of a wordsmith or a grammatical wizard) but with actions – in exploring ways I can contribute to making a difference in some way by sharing activities that bring me a sense of joy, peace, love, contentment and fulfillment. Even though my thing may not be your thing, my hope is that you can feel this coming through to you.
The New Year for me began wrapped in a blanket of family love, which is the best gift I could ever ask for. In returning west, I'm once again refining my direction as I continue to create and explore new ways of bringing joy, peace, love and sense of adventure into my own life. I aim to continue practicing the act of non-doing and non-striving without judgement – to simply be. I believe this is a way we can discover our personal "magic" and all the goodness that surrounds us. It's not an easy practice but the benefits are profound. As I start the new year I hope to break old routines, bring in new ones, take risks and embrace change.
That said, this week I made a very simple snack with some "goods" you might not be as familiar with. I challenge you to try some of them if you haven't before – whether that be an ingredient, this recipe or another, a new opportunity, a dance move, anything! I'm looking forward to taking on this challenge myself – Gangnam Style (video) anyone? Enjoy.
Recipe
The Goods:
The Magic: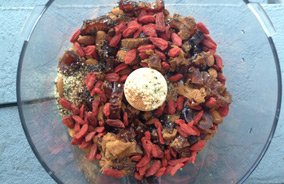 STEP 1:Place all the ingredients into the bowl of a food processor and pulse until you get a thick "doughy" consistency.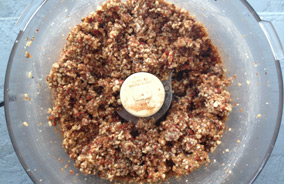 STEP 2:Measure 1 Tbl of "dough" mixture and form into balls with your hands.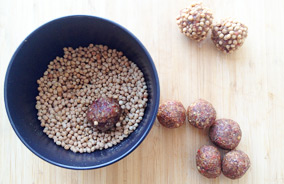 STEP 3:Roll balls in cereal of choice for a crispy coating. Best eaten when fresh. Enjoy!
Mindful Morsel
Love is what we were born with.  Fear is what we learned here.  The relinquishment, or unlearning, of fear and the acceptance of love back into our hearts is our purpose on earth.  To be consciously aware of it, to experience love in ourselves and others, is the meaning of life.
-Marianne Williamson, from A Return to Love