HAVE A HANKERING FOR FRIES?
Botanically a fruit, eggplant combines with other foods like non-starchy vegetables and as I discovered, makes for a delicious crispy french fry!
I like french fries, but I haven't quite discovered a homemade "healthy" version that I really enjoy until this weekend. I've never been a big eggplant eater but I was curious and feeling pretty keen on spicing up the aubergene (another term for the majority of the English-speaking world).
Eggplant belongs to the nightshade family of vegetables with varieties in many different colors and shapes. It's a warm-weathered plant, so in most parts of the country its prime season is mid-summer through early fall.
From a nutritional perspective, its most powerful antioxidants are in the skin, so I chose to leave it intact (if you choose to eat the skin as well, make sure it is organic). When shopping for the best eggplant make sure it is firm, the cap and stem are fresh looking and the skin is bright and shiny. A dull, matte skin is an indication that the eggplant is too mature or that it has been in storage too long, or both.
This particular recipe took more time than most to prepare but it was well worth the effort. I hope you enjoy it as much as I did!
Recipe
The Goods: Eggplant Fries
Extra virgin olive oil
1 medium purple eggplant
1 cup dry breadcrumbs
1/3 cup Parmesan cheese, grated
2 large eggs
fresh ground black pepper
sea salt
The Goods: Garlic Truffle Aioli
1 cup Greek yogurt
2 garlic cloves, minced
1 tsp truffle oil, or according to taste
sea salt
The Magic: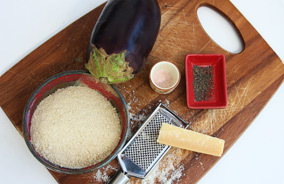 STEP 1:Collect all ingredients. Preheat oven to broil. Brush a medium baking sheet with oil.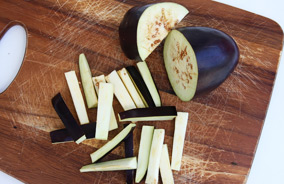 STEP 2:Leave the skin on and cut the eggplant into ½ inch thick fry shapes.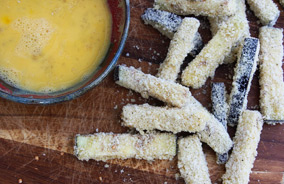 STEP 3:In small bowl, combine the breadcrumbs, Parmesan, sea salt and freshly ground black pepper. Next, in a medium bowl, beat the eggs until very well combined and dip an eggplant "fry" into the eggs, then coat in breadcrumbs.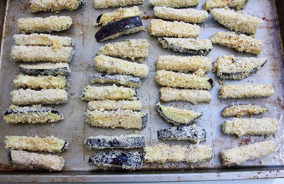 STEP 4:Place on prepared baking sheet. Repeat with all eggplant "fries". Broil for 4-5 minutes on one side (or until golden brown), then flip and broil 4-5 minutes on the other side. Enjoy immediately.
Mindful Morsel
It takes 20 minutes for your brain to register satiety. Slow yourself down by resting your utensils against your plate between bites and pause midway through the meal to give your brain a chance to catch up to your stomach.