MOUTH WATERING NUTRITION
Smoothies are a great to incorporate into your daily regime that requires little prep time. When you throw greens into the mix, it's almost like you're giving your blood an instant transfusion of goodness. Greens are an excellent source of chlorophyll. Chlorophyll enhances the ability of red blood cells to carry oxygen throughout the body while strengthening our immune system. Greens have the full essential vitamins, minerals and even amino acids that we need for optimal health. They help the blood remain slightly alkaline, while also providing sufficient calcium to prevent osteoporosis. When we blend greens (or chew them well), their cellulose structure is broken down to help unlock their valuable nutrients.
So, what are you waiting for?  Throw your favorite greens into a high speed blender, add your favorite seasonal fruit and give yourself a dose of liquid sunshine. As a general rule of thumb, start with 40% greens to 60% fruit when first starting out.
Recipe
The Goods:
4 kale leaves, de-stemmed
1 pear
1 apple
1 persimmon
1 inch of ginger root, chopped
1 cup of water
1 cup of ice
dash of cinnamon
The Magic: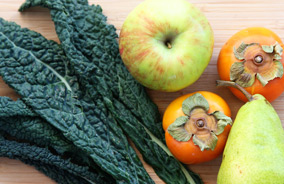 STEP 1: De-stem kale (a handful of spinach works well too) slice fruit, peel and chop ginger and toss into high-speed blender. Add water, ice and dash of cinnamon. Feel free to add a tad more ice or water to reach a desired consistency.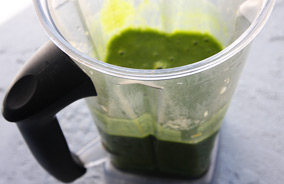 STEP 2:Blend all ingredients until smooth. Enjoy immediately!
Mindful Morsel
A single smile can generate the same level of pleasurable brain stimulation as up to 2,000 bars of chocolate, according to British researchers. Smiling can also reduce your stress levels and overall blood pressure. So go ahead, smile at a stranger - doctor's orders!