SMOOTHIFIED TO IMPROVE MOOD AND MORE…
If you are looking for a simple plant-based smoothie that will support digestion and reduce mood swings you may want to give this one a try! The active enzyme bromelain in pineapple is loaded with digestion enhancing benefits to lessen gas, bloating or other digestive symptoms. It's also great for inflammation. In addition, low iron levels in the diet can lead to mood swings, so the combination of leafy greens + extra vitamin C helps to increase the absorption of iron from the greens. A great combination to support a steady mood and digestive ease!
For extra benefits add maca powder (a Peruvian root) for a natural energy boost that will increase athletic performance, libido and immune system. The addition of this superfood will deliver many wonderful stress-reducing and hormone-balancing properties as well. This groovy smoothie is great for a morning/afternoon snack or post-workout replenisher.
Recipe
The Goods:
1 orange, peeled
4 kale leaves, de-stemmed
1 banana, frozen
1/2 cup pineapple, frozen
1 cup unsweetened almond milk or coconut water
1 Tablespoon maca root powder, optional
The Magic: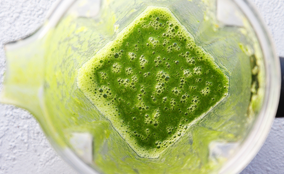 STEP 1:Combine all ingredients in a blender and blend until smooth.