BRAVERY, INDEPENDENCE AND BERRY CREAM PIES
This time of the year is a favorite for many reasons, one because it's a day to honor all the brave warriors who have fought for our country. It's a time to a commemorate the adoption of the Declaration of Independence, declaring independence from Great Britain in 1776. As a byproduct of celebrating our rich history, we also celebrate our individual freedom as United States citizens. So with that, I would also like to pay a special tribute to our country in supporting all steadfast warriors who fight for freedom in our society every day – anyone and everyone no matter their religious affiliation, skin color, sexual preference, gender, ethnicity, you name it. It's the beauty of the freedom of choice in our nation that makes it so great.
The other reason I love this holiday is because it's an opportunity to gather with dear friends and family to enjoy the outdoors, parades, picnics, greased watermelon contests, pie-in-the-face games, and all the other random ways we celebrate this day of recognition.
Speaking of pies-in-the-face! This berries and coconut cream recipe makes a great one! Berries are some of the best sources of antioxidants that help your body fight oxidative stress. The cream is full of medium-chain triglycerides (MCT's) that are digested differently than other fatty acids because they are absorbed directly into the blood stream (instead of being packaged as lipoproteins that circulate in the bloodstream) and are easily digestible. Just keep your mouth wide open if it lands on your face because it's nutritious and super delicious. Happy 4th!
Recipe
The Goods:
2 cups fresh strawberries, whole or sliced
1/2 cup fresh blueberries (or berries of choice)
2 cups vanilla coconut cream
The Magic: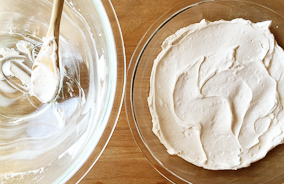 STEP 1: Follow the instructions for making the coconut cream by clicking on the hyperlink above.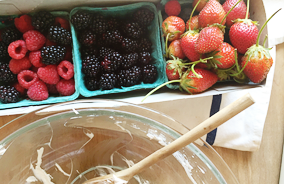 STEP 2: Pick your favorite berries and work your creative flag magic!