LOVE YOUR MOTHER
What better way to show your Mom some love than with a fresh and delicious crepe breakfast? Loaded with berries rich in Vit C (highest in raspberries and strawberries) they work to tone and firm the skin with it's collagen fibers. Collagen is a protein that helps make up the dermis so the stronger the network of collagen fibers, the firmer the skin.  In a sense, this tasty meal is like giving your Mother the benefits of a natural, glowing facial! How cool is that?
Top with cream for breakfast, whipped cream for dessert or in berry ice cream, and you'll create a synergistic combination of water-soluble nutrients and minerals with fat-soluble activators.
To Mom, and all Mom's, thank you for having a tremendous influence on shaping our state of health, beliefs and how we live our lives. You truly are amazing.
Happy Mother's Day! I love you, Mom.
Recipe
The Goods: Crepes
1 cup gluten-free flour (I used Bob's Red Mill) or all purpose flour 
3/4 cup almond milk or milk of choice
1/2 cup water
2 large eggs
3-4 Tbsp coconut butter, coconut oil or regular butter, melted
1 tsp vanilla extract
Vanilla Coconut Cream recipe can be found here.
The Magic: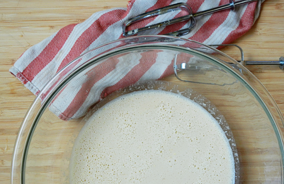 STEP 1: Place all ingredients in a medium-size mixing bowl. Whisk well or use a hand blender. Refrigerate batter for 1 hour (When the batter sits, crepes are less likely to tear when cooking.)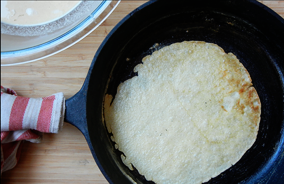 STEP 2: Heat a 9- to 10-inch non-stick pan on medium heat. Coat pan with a touch of coconut butter or butter of choice. When the butter begins to slightly bubble, turn the burner down to medium-low. Pour 1/4 cup of batter into the center. The pan should be coated with a thin layer of batter. Cook 30-45 seconds (you will see the top of the crepe start to dry) and flip onto other side. Cook for another 20-30 seconds. Top with your favorite berries and cream and enjoy!