GROWIN' WITH THE FLOW…
I began a gardening project this Summer, and the fruits of my labor are just beginning to harvest! It's been a process that has taught me a lot about the benefits of cultivating my own garden, learning to be open to the process and surrendering to Mother Earth to take the lead. I ran into some challenges as I got off to a late start, was not totally sure what I was doing, selected some of the wrong materials, figured out how to use a tiller (and transported one to my house!), found an organic fertilizer (alpaca poop!) and shoveled over 200 lbs of it to my garden, researched non-toxic natural sprays to use to keep them healthy, dealt with bug bites and lots of 'em…and so on. All par for the course in setting out to accomplish something worthwhile. I'm learning!
Each day I've been discovering new ways to cultivate and care for this garden so I can provide for myself and those I care for.  Each day presents something new –  weed pulling, plant feeding, over watering, under watering, excitement and wonder at the creation of this beautiful, yet messy endeavor.  No matter the outcome, the greatest lesson for me has been to practice letting it unfold, kind of like learning to "grow with the flow", like the plants!  Because new things present themselves each day – the wilting and thriving, expanding and contracting, the marvelous and miraculous, growth and change.
When you cultivate your garden by caring for it (especially when conditions are harsh) – nourish it, honor it, be gentle with it, set aside expectations, trust the process, and allow it to unfold in it's own time (and that time will be perfect!), expect miracles.
In this recipe I have used organic swiss chard, zucchini, basil and tomatoes from my garden. I hope you enjoy. XO.
Recipe
The Goods
3 zucchini (sliced 1/4 inch thick, I used a mandoline slicer)
8 oz organic baby bella mushrooms, chopped
4 cups swiss chard, coarsely chopped
1 organic tomato, sliced
1 cup pesto (a tasty vegan homemade option can be found here or use your favorite brand)
2 cups tomato sauce (for ex. Muir Glen organics)
1 container 15 ounce of rGBH-free ricotta cheese (for ex. Organic Valley brand)
sprinkle with oregano (dried)
sea salt, to taste
The Magic: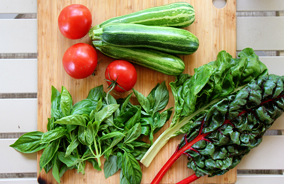 STEP 1: Preheat oven to 325 degrees. Gather all your garden veggies and begin prep work.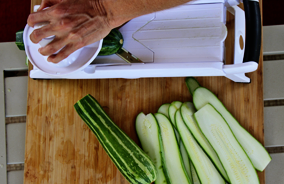 STEP 2: With a mandolin slicer begin slicing zucchini to begin making lasagna noodles. Set blade size to 1/16" or 1.5mm.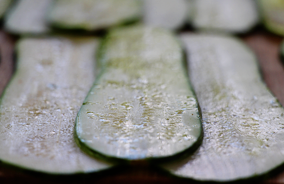 STEP 3: Once zucchini has been sliced, sprinkle with salt & set aside to weep (see above). Note: This is a very important step since zucchini are 70% water. By weeping the zucchini the water content is drastically reduced and creates a flexible noodle. This step is also important in avoiding a watery dish when it's removed from the oven. It is best to weep both sides, use a paper towel to blot and soak up the excess water.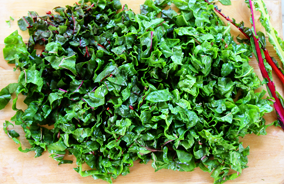 STEP 4: While zucchini is weeping, de-stem and coursely chop the swiss chard, mushrooms, and tomato.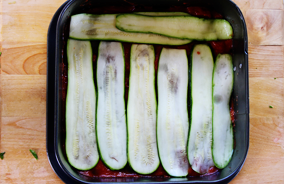 STEP 5:To assemble lasagna, start by spooning enough marinara sauce onto bottom of lasagna or 9.5 inch spring form pan to prevent zucchini from sticking. (You can use any size pan you have, this is just a guideline) Add first layer of zucchini noodles.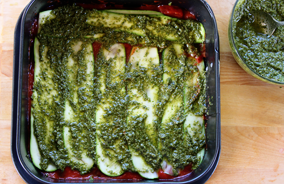 STEP 6: Next add a layer of pesto spread with a broad knife or offset spatula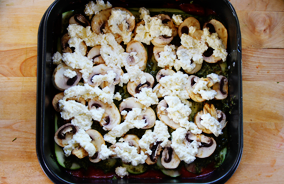 STEP 7: Add chopped mushrooms and scatter with ricotta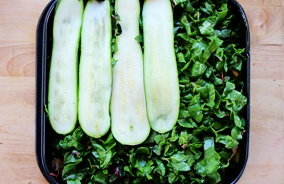 STEP 8: Add swiss chard and another layer of zucchini noodles.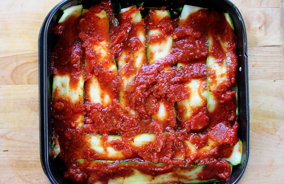 STEP 9: Repeat the process by adding pesto, marinara sauce, mushrooms, swiss chard & cheese.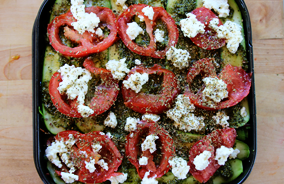 STEP 10: For the final zucchini layer, spread with pesto, top with fresh sliced tomatoes, scatter with ricotta cheese & sprinkle with dried oregano. Cover with foil. Bake for 40 minutes. Remove foil; raise oven temp to 350 degrees & bake an extra 10-15 minutes. Let cool for 10 minutes. Slice and serve with your favorite salad and enjoy!