A NOODLE RENEWAL
Summertime is a great time to venture into new noodle territory to create some fun food adventures! This week I was looking for something hearty but light so I turned to buckwheat as my experimentee. Buckwheat (aka kasha) is sometimes thought to be a grain but it's actually the seed of an herb and it's related to rhubarb. When buckwheat is ground and turned into flour and then turned into noodles you get soba noodles. These noodles are a delicious alternative to anyone with gluten sensitivities or just looking for a simple noodle renewal.
Speaking of noodle renewals, your brain needs about 25 percent of the glucose in your blood in addition to other nutrients like healthy fats (making up 60 percent of your brain) and Vitamin D to function optimally. Soba noodles are a good carbohydrate source, high in fiber, and a great source of protein and B Vitamins that nourish your brain when you're feeling down and out. Add the nutty and delicious tahini dressing that's high in unsaturated fat and additional protein, and you have some great brain food!
True soba noodles are made with 100% buckwheat flour, so be sure to check the label if you are gluten-sensitive since some brands are mixed with wheat flour as well. Compared to other grains like brown rice, wheat and barely, buckwheat is considerably less starchy and makes for a delicious cold noodle salad during warm summer months. Toss these tasty noodles with your favorite summer veggies, add dressing and voila! You've got yourself a simple summer meal that nourishes body and brain. I hope you enjoy!
Recipe
The Goods:
1 or 2 zucchini, chopped into rounds and cut in half
6-10 small patty pan squash, cut in half
2 spring onion, chopped
2 carrots, chopped into rounds or made into ribbons with a veggie peeler
1 cup snow peas
1 8.8 oz package of 100% buckwheat soba noodles (For ex. Eden Brand found online here)
1 cup tahini dressing or more (recipe here)
*A nice store bought tahini dressing is Annie's Homegrown Organic Goddess Dressing that can be found online here.
The Magic: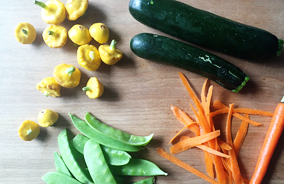 STEP 1: Collect your fresh garden veggies and begin chopping. I used fresh zucchini, spring onion, carrots and patty pan squash.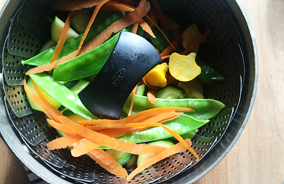 STEP 2: Once veggies are prepped and ready fill a large sauce pan with an inch of water and place a steaming basket inside. Bring the water to a boil. At the same time on a separate burner bring another pot of water to a boil to prepare for cooking the soba noodles. For the garden veggies, place them in the steaming basket once the water has reached boiling, reduce to low heat and cover for 5 minutes or until veggies are tender.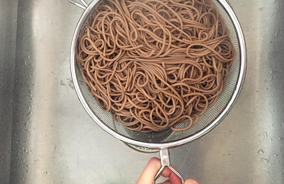 STEP 3: Drop the soba noodles in the other pot of boiling water and cook uncovered for 6-8 minutes. Be careful not to overcook. Drain and rinse with cold water. These are delicious served hot or cold.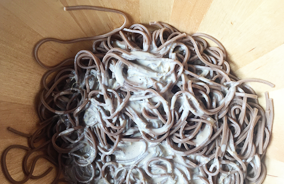 STEP 4: Once the soba noodles have been rinsed add the tahini dressing. Toss the noodles with the steamed garden veggies, serve and enjoy!