PESTO FOR EATING PLEASURE
It's the season for palate-pleasing pesto! Summer is officially in our midst and with that comes many opportunities for parties, picnics, and finding simple ways to delight and share in its endless possibilities. Pesto is a personal favorite that's fun to make and can serve as a nutritional pharmacy with flavors that rarely disappoint. It's quick and easy to prepare, has multi-purpose eating  options and puts to use the season's bounty like nobody's business!
This week's recipe is loaded with spinach, walnuts, parsley and basil – each with benefits that don't come with much surprise:
Spinach – Bursting with carotenoid phytonutrients, spinach, along with other carotenoid-rich foods have been found to be associated with a reduced risk of various types of cancer.
Garlic – A boon to overall health with it's powerful sulfer compounds that supports cardiovascular health also strongly associated with better brain functioning.
Walnuts – Full of B vitamins including thiamin and B6 linked with improved levels of concentration and mental energy.
Parsley – Loaded with luteolin that's been linked with memory improvements and preventing oxygen-based damage to cells.
Basil – Rich in flavonoids that have been linked to memory gains and magnesium that promotes more of the deep sleep that helps increase energy levels.
Though the nutritional profile is important, it's only one aspect of nourishment.  We're also nourished by what we see, smell, hear, and think in significant ways. So, it's not just what we eat, but how we eat as well. Creating and sharing a meal is an experience to be had that has the potential to be loaded with pleasure (aka Vitamin P). Couple that with relaxation (Vitamin R) and you have very two very powerful ingredients for setting up the body for optimal metabolism.  In fact, it's so important nutritionist Marc David author of Mind/Body Nutrition explains how eating in stressful states (this also includes stressing about what to eat) can significantly influence our body's ability to absorb nutrients no matter the nutritional value of the food. He emphasizes that a stressed eater produces cortisol, our main stress hormone. This desensitizes us to pleasure and slows metabolism. A relaxed eater, however, has natural control and metabolism is enhanced. How can you shift into a more relaxed state before or during a meal? Take 10 deep breaths before you eat.
We each spend five years of our life eating according to Amit Sood, MD and author of The Mayo Clinic Guide to Stress-Free Living. That's a lot of time! Thoughtfully spending this time will better nourish our body, mind and spirit.  Enjoy this recipe as a dip served with your favorite veggies or crackers, enjoy with eggs, fish, dollop on salads, stir into soups and douse with a big dose of pleasure and relaxation.
---
Recipe
The Goods
2 cups fresh spinach leaves, well-washed and de-stemmed
1⁄2 cup fresh parsley (Italian flat leaf)
1/2 cup fresh basil
1⁄2 cup walnuts, toasted
1⁄4 cup parmesan cheese, freshly grated
3 garlic cloves
½ lemon or more to taste, juice only
2 tablespoons extra virgin olive oil
1⁄4 teaspoon sea salt
1⁄8 teaspoon fresh ground black pepper
The Magic:
STEP 1: Place all ingredients into food processor and process to a fine paste.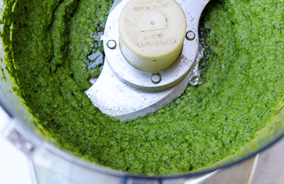 STEP 2: Taste and adjust seasonings and transfer to a glass container and top with a smidge of olive oil to prevent the top of the pesto from turning brown.