SIMPLE SIZZLIN' SUMMER SKEWERS
For the fish lovin, here's a great addition to your 4th of July fixins.  Wild yet mild, firm yet flaky, halibut with it's delicately sweet flavor and high nutritional profile is a rich source of essential fatty acids.
Essential fatty acids are so named because they are essential for our health but cannot be made by the body; they must therefore be obtained from foods. Cold-water fish like halibut are a rich source of the omega-3 essential fats (aka EPA), a form of essential fatty acids in which the standard American diet is sorely deficient.
This mood boosting meal will support good cheer with it's omega-3 working abilities helping to send feelings, thoughts and commands throughout the body as it's one of the basic building blocks of the brain.
For a list of sustainable wild caught seafood choices visit www.blueocean.org Additional tips and resources for purchasing seafood can be found here. And finally, keep an eye out for the sustainable label that you can view here.
Enjoy your holiday celebrating good times, friends, family and freedom! Happy 4th of July!
Recipe
The Goods:
1 large ripe avocado, peeled and cut into 1/2 inch cubes
1 medium ripe mango, peeled and cut into 1/2 inch cubes
1 cup cherry tomatoes, halved
2 Tbsp extra virgin olive oil, divided, plus more for brushing
3 Tbsp lemon juice or lime juice, divided
sea salt and fresh black pepper
4 6 oz. wild caught halibut fillets
The Magic: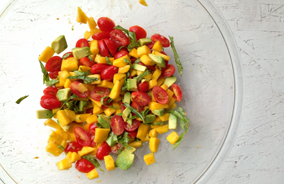 STEP 1: Prepare grill to medium-high heat. Combine avocado, tomatoes, mango, basil, 1 Tbsp olive oil, and 1 Tbsp lemon (or lime) juice in mixing bowl. Season with salt and pepper and set aside.
STEP 2: In a baking dish, use the remaining olive oil and lemon (or lime) juice. Cut halibut into bit size chunks, add to baking dish and season with salt and pepper. Let marinate for 10 minutes then place on skewers. Next, brush grill with olive oil. Grill fish until the center is opaque - roughly 5 minutes per side. Transfer to plate, top with salsa and enjoy!