SUMMER EVENINGS MADE SIMPLE
Evenings made simple with friends and family make for the best moments during the summertime. Taking time to slow down for an evening in a relaxed way without distractions (ex. TV, cell phone, book, magazine), pausing to enjoy the warm summer air, sharing an uninterrupted meal with those close to us, paying attention to all that went into it's creation, not only nourishes the soul, it helps prepare our bodies to receive nourishment as well. After attending a Mindful Eating workshop at UCLA recently, I learned we have a tendency to hold many internal stressors that have a significant impact on how we are able to digest food as a natural result of our busy lives. These internal stressors can be any of the following:
Thoughts and beliefs
Emotions
Worry
Each of these mental stressors can cause a stress-response releasing hormones that bring our digestive processes to a halt. Repetitive eating in this way can result in the depletion of our body's energy reserves, create nutrient imbalances and can lead to weight gain. However, it can be easily managed with the practices mentioned above on a regular basis. A great opportunity to practice can start with this simple recipe!  Wishing you many evenings made simple with your wonderful self or with those you love.  I hope you enjoy.
Recipe
The Goods:
3 or 4 heirloom tomatoes, sliced
1 polenta roll, sliced into one inch thick rounds (Ex. Food Merchant's Organic Polenta Basil Garlic found online here)
2 cups pesto (homemade vegan recipe here)
1 tablespoon grapeseed oil
1/2 cup fresh basil, sliced into ribbons (optional)
The Magic: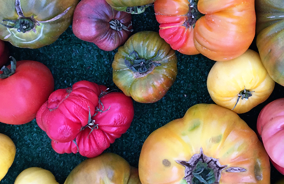 STEP 1: Select a few fresh heirloom tomatoes from you local grocer or farmers market according to desired thickness.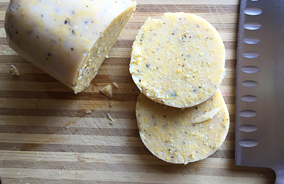 STEP 2: Slice polenta roll into one inch thick slices. Heat polenta slices in a pan on medium-high until lightly browned on each side or heated thoroughly, whichever is preferred. Begin stacking polenta, pesto, tomato until you reached the desired stack height. Garnish with fresh basil ribbons. Serve and enjoy!