FROM GARDEN TO PLATE…
I started a gardening project almost 2 years ago and it's been a sweat-laboring, land-learning, poop-appreciating, dirt-loving, transition-laden process from beach livin' to backyard chillin'. My only previous attempt at gardening was using half a wine barrel I found at Lowe's Home Improvement store to plant plants in when living at the beach. Unfortunately, they root rotted because I didn't make proper drainage holes.  That said, I'm not a practiced expert by any stretch. However, I took on this endeavor a couple of years ago because it was a good time to try again for many reasons – most importantly for some peace of mind, sunshine and fresh-from-the-ground recipe inspiration.  And, let me tell you, did I ever get what I asked for! And way more…
Need some peace of mind? Try gardening
Though I had no idea what I was getting into, I knew beginning this project would force me to expand upon my very little gardening knowledge know-how. When it comes to gardening, Clare Cooper Marcus, MA, M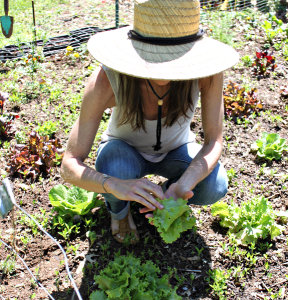 CP, from the University of California at Berkeley says "Gardening puts the mind in a similar state to meditation." And that's exactly what I was looking for. So, to the ground I went and quality time with plants I spent to focus my attention. Everyday activities can support this cultivation of mindfulness when bringing your full attention to it – showering, walking, running, cooking, etc. Additionally, research from the University of Minnesota reveals that "environments can increase or reduce our stress, which in turn impacts our bodies. What you are seeing, hearing, experiencing at any moment is changing not only your mood, but how your nervous, endocrine, and immune systems are working." Regardless of age or culture, we find nature very pleasing. So, finding ways to get outside and enjoy it literally changes your body. If you're feeling anxious or looking for a reprieve from the non-stop newsfeeds, traffic-filled freeways and all the demands of daily life, try popping a plant in the ground. Or place a pot on your porch (before you pop a pill) nurture it, watch it grow, harvest it, and enjoy all the benefits from your efforts of cultivating the plant life around you. You'll gain a sense of restored health and a regenerated aliveness! My garden remindes me of this gift. In addition to giving me scores of bright, nutritious produce to put on my plate, it energizes my spirit, calms my mind and connects me to life-giving earth!
How to begin? Take 3
For my 3rd round of spring planting I opted to buy plant seedlings instead of growing from seed. This saved me several weeks, though it is more expensive to go this route, the odds of killing them are slim and they're ready to go directly into the ground. This can be nice when you're first starting out and learning how it all works. I planted spinach, lacinato kale, bok choy, red leaf lettuce, green leaf lettuce, romaine, Swiss chard, arugula, Brussels sprouts, beets, broccoli, tomatoes, jalapeno  peppers, pole beans, and loads of herbs. I'll be exploring the endless realm of culinary combinations with these garden goods this season and plan to take you along for the ride. If you want to join me, now's the time to plant!
The result? Benefits galore
Dr. Helen Delichatsios, an internist at Harvard-affiliated Massachusetts General Hospital says "When you grow your own food, you savor it more because of the effort it took to get to the table."  Whether you decide to create a backyard garden or plant herbs in a pot on your back porch or find a community garden near you, you'll witness the cycle, see the colors, hear the sounds, feel the earth and breeze and sunshine and watch the shapes of plants as they grow to prepare themselves for you as you have prepared for them. The result? Priceless. And that's just the seed I need to keep on planting!
For this week's recipe I used green and red leaf lettuce (I'm harvesting above), fennel, Italian parsley, carrots, shallots and white beans from a nearby Kroger. I tossed in a pasture-raised egg because I had a craving for it, and drizzled a simple vinaigrette over top.
---
Recipe
The Goods
6 cups leafy greens (I used both green and red leaf lettuce from my garden)
1 fennel bulb, thinly sliced
1 bunch red radishes, thinly sliced
1 shallot, thinly sliced
4 carrots, thinly sliced lengthwise
1/2 cup Italian parsley, chopped
2 cans white beans, BPA-free
1 egg, hard-boiled and sliced (optional)
For the vinaigrette: combine the following in food processor – 2 garlic cloves, 1/2 cup white wine vinegar, 1 1/2 tsp Dijon mustard, 1/4 cup chopped shallot, 1 1/2 cup extra virgin olive oil, sea salt and pepper to taste. Process to combine. While motor is running, slowly drizzle in oil until it's emulsified. Taste and adjust if necessary. Makes 2 1/4 cups.
---
The Magic: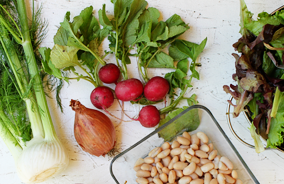 STEP 1: Collect all your ingredients together in one place. Thoroughly rinse all your ingredients.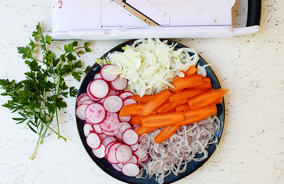 STEP 2: Thinly slice all your spring veggies. I used my mandoline slicer and set aside. Add sliced veggies to your salad and top with white beans and sprinkle with Italian parsley. Add the egg, drizzle with vinaigrette and enjoy!