SUMMER SQASH IS STILL GOING STRONG
With an abundance overflowing the farmer's market, I couldn't help but fill my basket with these beautiful green & gold summer gems.  Zucchini, the most popular summer squash is about 95 percent water and because of it's high water content, it doesn't require much cooking; raw, squash adds a nice texture to salad or as side to some of your favorites. Other squash varieties include the yellow crookneck or straightneck & the patty pan. All good sources of vitamins A and C, full of fiber with bone strengthening calcium, magnesium & phosphorus. It's a perfect salad to make for a satisfying lunch or light dinner.
*Be sure to follow sustainable practices when selecting fish using these tips.
Recipe
The Goods: Squash Salad
3 lbs zucchini & yellow squash combined, thinly sliced (Approx 4 zucchini, 4 yellow squash)
3 Tbsp lemon juice, fresh squeezed
1 garlic clove, minced
1 tsp cumin
½ cup extra virgin olive oil
3 Tbsp chopped cilantro
sea salt & pepper
1 cup of cooked corn (optional)
crushed red pepper for added spice (optional)
The Goods: Steamed Mahi Mahi
1 lbs wild caught Mahi Mahi (or white fish of choice)
lemon, juice from half a lemon
sea salt, dash
The Magic: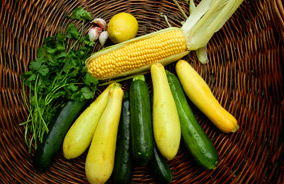 STEP 1:Collect all ingredients to prep. Slice the squash into uniform strips using a mandolin slicer or vegetable peeler. If using a vegetable peeler, shave squash into ribbons to measure 5 cups and discard seeds and core of squash. Steam for 3-5 minutes in a steaming basket if serving warm is preferred. Set aside.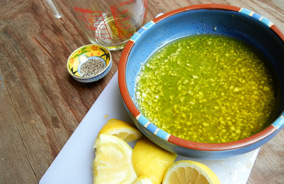 STEP 2:For Marinade: Combine the lemon juice, garlic, cumin, sea salt, pepper & olive oil.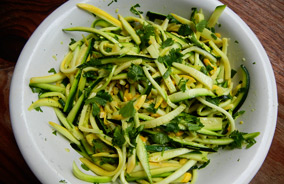 STEP 3:Toss marinade with the squash salad. If serving warm, add cilantro and serve. If serving cold, store in refrigerator until you're ready to serve & garnish with more cilantro.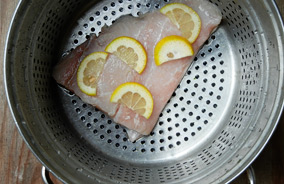 STEP 4:For Mahi Mahi: Place 2 inches of water in the bottom of a saucepan. Add the juice of ½ a lemon and bring to a light boil. Add a steamer basket, season Mahi Mahi with your favorite spices or juices. Top fish with fresh squeezed lemon (fresh squeezed orange is nice too), sea salt and black pepper. Steam until cooked through, approx 15 minutes. Rule of thumb: Allow 10 minutes of cooking time per inch of thickness. Once fish is cooked, place over zucchini salad & enjoy.