IT'S HOMEMADE SALSA TIME!
The newness of spring and warmer weather calls for more time outdoors filled with fun and fresh air. Along with warmer days comes delicious local produce with lots of possibilities to create some tasty recipes. I have to admit, I am bit of a salsa freak and I like to make it every opportunity I get. Not only because it's delicious and lasts a while, but it's extremely versatile too.  I combine it with almost anything besides the obvious taco – eggs, tossed over salads, combined with wilted greens, dumped into veggie rice/quinoa bowls, mixed with roasted veggies, added to soups, folded into guacamole, as a topping for bruschetta, I have even been known to dip chocolate into it. Like I said, I'm a little bit of a freak when it comes to this stuff and will combine it with just about anything…well almost. Salsas can be sweet, spicy, tangy, and at times too much on the taste buds if peppers leave you faint at heart.
All in all, these delicious and colorful combinations are loaded with nutrition that are likely to please. The two combinations this week are perfect examples. The Mango Turmeric Salsa is sweet and aromatic. Apart from being very high in the antioxidant compounds beta carotene (which is either converted to vit A or used to protect cells from free radicals), mangoes are useful as a digestive aid with their enzyme content. Add turmeric, a "nutritional medicinal" and you've got yourself some anti-inflammatory properties along with a whole spectrum of benefits ranging from liver to immune support to your dish. Yes!
Next up, the Simple Garlic Salsa's endorphine producing, garlic-oozing goodness will leave you sweating and wanting more.  According to the American Institute for Cancer Research "studies suggest that one or two cloves weekly provide cancer-protective benefits." Not only that, it also keeps the blood flowing in all the right places. How? It has a sulfur-based compound called allicin (giving garlic it's strong odor). It does so by increasing nitric oxide which is a gas used by blood vessel walls to trigger the arteries and surrounding muscles to relax. The greater the nitric oxide levels become the greater the increase in blood flow.  Garlic has natural antibiotic, anti-bacterial and anti-fungal properties make this option a winner in many ways. I hope you enjoy!
Mango Turmeric Salsa (Sweet)
The Goods:
2 roma tomatoes, seeded and chopped
2 mangoes, peeled, pitted and diced
2 avocados, diced
1/3 purple onion chopped
1 fresh lime, juice
1/2 teaspoon turmeric
1/8 teaspoon sea salt
For an extra kick add a small jalapeno. See instructions below.
Simple Garlic Salsa (Spicy)
The Goods:
1 roma tomato, chopped
1 (28-ounce) jar diced tomatoes
1/2 fresh lemon, juice
4 cloves fresh garlic, chopped
1 tablespoon fresh cilantro, chopped
1 small jalapeno pepper, chopped
1/3 medium red onion, chopped
2 tablespoons apple cider vinegar
1/4 teaspoon cumin powder
1/2 teaspoon dark chili powder
1/2 teaspoon fresh ground black pepper
1/2 teaspoon sea salt
See instructions below.
The Magic: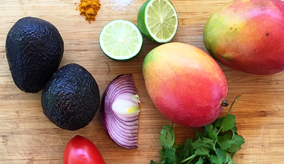 STEP 1: Mango Turmeric Salsa - collect all ingredients and start chopping.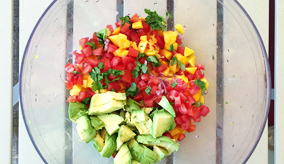 STEP 2: Mango Turmeric Salsa - Combine the tomatoes, mangoes, cilantro, lime juice, turmeric, and salt in a bowl and mix. Add the avocado gently and toss. Serve immediately or cover and refrigerate. Enjoy!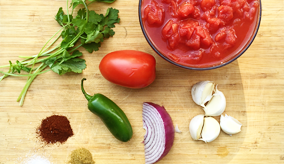 STEP 1: Simple Garlic Salsa - collect all ingredients and start chopping.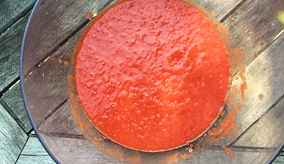 STEP 2: Simple Garlic Salsa - in a food processor, grind tomatoes and lemon juice on pulse setting until finely chopped. Place in a bowl and set aside.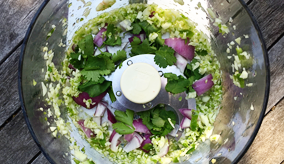 STEP 3: Simple Garlic Salsa - place cilantro leaves, garlic and jalapeno in food processor and chop thoroughly. Add chopped onion and pulse until the consistency is finely minced.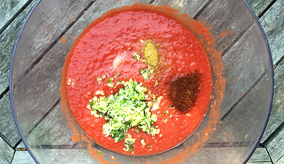 STEP 4: Simple Garlic Salsa - Combine all ingredients in bowl and stir together. Serve immediately or cover and refrigerate. Enjoy!