THIS BLUE GREEN MACHINE is similiar in taste to your typical delicious banana-berry smoothie, but this one's a bit different. There is a secret ingredient that's loaded with nutrition giving it's emerald green hue, and it's called spirulina. It's a blue green algae that grows in both fresh and salt water that's a one-celled organism – not to mention it's of the most primitive forms of plant life. It's benefits range far wide:
Includes all essential amino acids we need
rich in cholorphyll which oxygenates and alkalizes the blood
contains same calcium, phosphorus, and magnesium content as milk
source of omega fatty acids which lower bad cholesterol and fight heart disease and depression
contains vitamin B12, important for metabolism and healthy nervous system
---
Recipe
The Goods
1 banana, frozen
1 cup mixed organic cherry-berry blend, frozen (strawberries, cherries, blueberries)
1 cup nut milk
2 heaping teaspoons of spirulina
1 Tbsp hemp seeds
1 teaspoon cacao nibs (topping)
The Magic: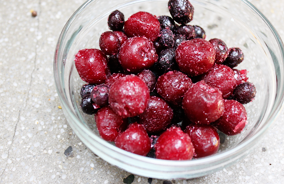 STEP 1: Use one cup of the frozen berries of your choice (I used an organic cherry-berry blend).
STEP 2: Place all ingredients in a high speed blender and blend until creamy smooth. Add additional nut milk or water if need be. Top with cacao nibs and hemp seeds.