A SHAKE THAT'LL MAKE YOU SMILE…
I love the newness of spring, I cherish friends, and I'm a sucker for milkshakes. So, it was during a nostalgic moment with a good friend that I was pleasantly reminded of a day from my childhood playing in Centennial Park with my pet duck, Happy. Happy and I were surrounded by bright yellow buttercups while basking in the glow of a Baskin-Robbins 31 flavors mint chip shake.
This memory inspired me to transform one of my favorite childhood treats into an upgraded shake of life-giving goodness, that makes me, well…happy. For this tasty treat, I whirled together some fresh mint, cacao nibs, bananas, avocado…and spinach.
Now, before you dismiss the thought of having a leafy green in a dessert, let me see if I can sway your stance. Avocados, with their beneficial monounsaturated fats, merry well with potassium rich, easily digestible bananas to create a delicious sweet creaminess. Now combine the spinach and you've got a b-vitamin mood balancing booster that not only acts as an oxidative stress buster, but helps lower high blood pressure. Plus, you can't taste the spinach in the shake. The magic abilities of this creative combo promotes vitality, encourages strong vision and keeps bones strong too (thanks Vit K!)
All this in a dessert, you say?  Yes, I say. Now, combine the fresh mint for added coolness even Baskin-Robbins can't compare, sprinkle with cacao nibs and you've got a delicious dessert that's much more than a tasty treat. And…I promise it tastes good.
Recipe
The Goods:
2 bananas, frozen (peeled and cut)
1.5 cup fresh spinach, loosely packed
2 cups unsweetened vanilla almond milk
1/2 avocado
1 tsp vanilla extract
1 date, pitted
2 Tbsp cacao nibs
1/2 cup fresh mint, loosely packed
The Magic: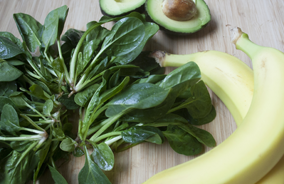 STEP 1: In a high speed blender combine all ingredients except the cacao chips. Blend until smooth.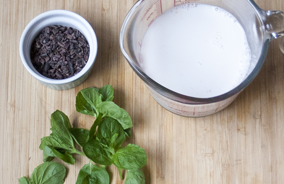 STEP 2: Add cacao chips and pulse blender a few times to evenly distribute. Garnish with fresh mint sprig and cacao nibs.
*photo credit: Jinna felton