THANKFUL FOR SIMPLE FOOD
Simplicity in the kitchen is something I admire in the teachings of Alice Waters, creator of Chez Panisse Restaurant. Her emphasis on having the best and tastiest ingredients from local producers and farmers educates a way of food preparation that is extremely simple and delicious. It is centered around the idea that you can cook simply with fresh ingredients, and the food will be extraordinary because it tastes like what it is.
In her book "The Art of Simple Food" Alice describes the principles of a delicious revolution as "one that can reconnect our families and communities with the most basic human values, provide the deepest delight for all our senses, and assure our well-being for a lifetime."
May you enjoy this simple, yet extraordinary salad inspired by pure, fresh and seasonal ingredients that tastes like what it is.
---
Recipe
The Goods: Salad
8 cups arugula
4 ripe persimmons, thinly sliced (*See note below)
2 pomegranates, remove seeds
1 cup walnuts, toasted
The Goods: Vinaigrette
4 teaspoons red wine vinegar
2 teaspoons lemon juice
sea salt and fresh -ground black pepper
1/2 cup extra virgin olive oil
Directions for Vinaigrette: In a small bowl, whisk the red wine vinegar, lemon juice and salt and pepper. Slowly whisk in the extra-virgin olive oil. Yields 1/2 cup.
*There are hundreds of varieties of persimmons, but what we see most in the U.S is the Japanese persimmon. There are two types that dominate the market, the Fuyu and Hachiya. The Fuyu variety are short and firm and tomato-shaped. They are crisp and sweet and the skin can be eaten or peeled. The Fuyu is wonderful in a stir-fry, salsa, salad or eaten like an apple. The Hachiya variety is acorn-shaped and highly astringent if eaten before fully ripened to a soft flesh. Great for baking into breads, cookies, pancakes or turned into puddings. From a nutritional perspective, persimmons are rich in beta-carotene, which turns into vitamin A in the body. One persimmon delivers 55% DV (Daily Value) of this vision-protecting vitamin, as well as 30% DV of bone-healthy manganese. 
The Magic: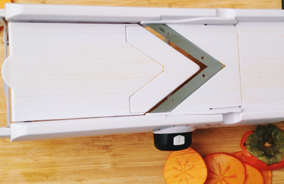 STEP 1: Thinly slice the persimmons using a chefs knife or Mandoline slicer (displayed above). A Mandoline slicer is a hand-operated kitchen tool that comes with adjustable blades for quickly and efficiently slicing and julienning firm fruits and vegetables. This device is extremely sharp, so caution is advised when using it.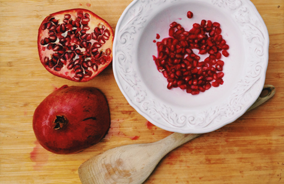 STEP 2: Cut the pomegranates in half. With wooden spoon hold each half down over a bowl and pound the back of the fruit. This will remove the seeds from the pith. Remove any additional white pith that falls into the bowl. Place arugula into a large serving bowl, add sliced persimmons, pomegranates, toasted walnuts and drizzle with a simple vinaigrette. Enjoy!