A VEGAN VERSION OF PHO
Pho, pronounced (fuh) is a classic Vietnamese dish typically prepared with beef broth that is poured over fresh rice noodles, vegetables, and herbs. The traditional version is incredibly delicious but not so simple to make. Due to the timely process of this respected and delightful dish, I decided to create a version that still warms the soul and excites the taste buds, but with a twist. In this particular recipe I swapped the fresh rice noodles for fresh zucchini, used vegetable broth in place of beef, and added portobello caps for an immune system boost.
Pho is typically served with a plate full of fresh garnishes that include basil and cilantro, lime wedges, crunchy mung bean sprouts and chili peppers. In addition, a plate of condiments like Siriraca (red chili sauce) and hoisin sauce (sweet and dark soy bean sauce) are wonderful for an added boost, giving additional flavor and some kick. Each person can create a unique taste with a combination of these condiments to suit their palate. Experiment, have fun and enjoy!
Recipe
The Goods:
8 cups vegetable broth
1 whole star anise
2 cloves garlic, minced
1 tsp fresh ginger, finely grated
2 zucchini, sliced into noodles using a spiral vegetable slicer or julienne vegetable peeler (approximately 1 zucchini per person)
2 carrots, thinly sliced
2 portobello caps, sliced
1/4 cup green onion, chopped
sriracha sauce (found in international food section of grocery store)
hoisin sauce (found in international food section of grocery store)
Toppings: Bean sprouts, fresh cilantro, basil, fresh lime wedges
Special note: If you plan to save extras for later, store the zucchini noodles in a separate container until ready to serve. 
The Magic: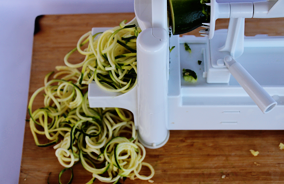 STEP 1: Create zucchini noodles using a spiralizer machine or a julienne peeler and set aside.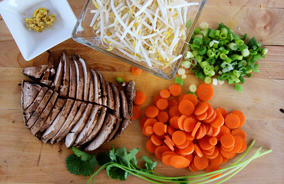 STEP 2: Prepare remaining vegetables in advance and set aside.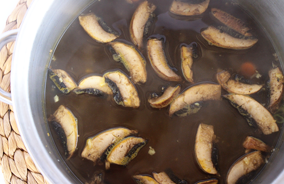 STEP 3: Combine broth and star anise in large saucepan. Bring to a boil over high heat and reduce heat to medium-low. Add garlic, ginger, cover and simmer 10 minutes. Add portobellos and carrots and let simmer on medium-low for 10 minutes.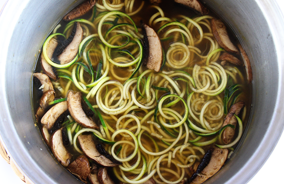 STEP 4: Add zucchini noodles, distribute soup among bowls and top with fresh garnishes (bean sprouts, basil, cilantro and green onion). Serve with lime wedges, sriracha and hoisin sauce.