FABULOUS FALL FLAPJACKS
It's fall and that means it's time to find ways to add pumpkin to as many things as possible! I love pumpkin so this morning I decided to experiment with this recipe by using quinoa flakes instead flour.  The consistency turned out really nice and the flavor was divine.  Lightly drizzle with raw honey (optional), top with your favorite fresh fruit, nuts or seeds and enjoy.  Also, try adding your favorite nut butter for a pumpkin pancake sandwich – a tasty recipe that complimented a wonderful morning brunch on the beach with long-time friend.
Pumpkins are very high in fiber making it great for helping regulate blood sugar balance. They're also loaded with immunity-boosting vitamin A which plays a key role in support of immune and inflammatory functions – great for this time of year.
Recipe
The Goods:
1 cup pumpkin puree
1 cup oat flour
2 Tbsp flax meal
2 Tbsp raw honey
1/2 cup virgin coconut oil or olive oil
1 tsp pumpkin pie spice
2 tsp baking soda
1/2 cup almond milk
The Magic: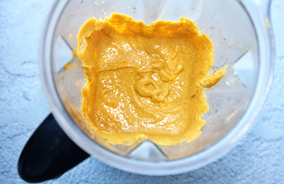 STEP 1:Preheat pan to medium-low heat with two spoonfuls of coconut oil or olive oil. In a bowl or blender combine all ingredients.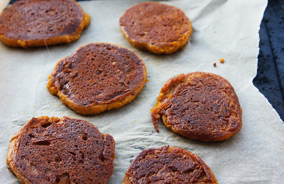 STEP 2:When the pan is warm and a test of batter sizzles, pour the mixture onto the pan in small silver dollar size pancakes and cook each side until golden.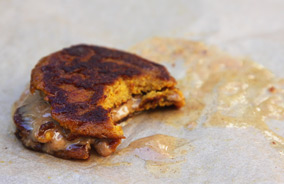 A peanut butter pumpkin pancake sandwich that you and your kids will love!
Mindful Morsel
We often overlook one of the most basic gifts of existence - the pleasure and satisfaction that can be found in the eating experience. We have a tendency to take food for granted in a land of abundance. By honoring your food in an environment that is inviting and conducive, the pleasure you derive will be a powerful force helping you to feel satisfied and content.