MUSHROOM MAGIC
Flavorful mushrooms like Shiitake are rich in the savory flavor sense known as umami, offering a delicious meaty texture and smoky flavor. Their distinctive taste and aroma delight the senses; however, these nuggets of magic offer much more than just good taste. Here are some of Shiitake mushrooms legendary health benefits:
Ancient traditions prescribed Shiitakes to improve life energy they called chi.
Chinese herbalists prescribed them for improving circulation and increasing vitality.
They have antibacterial and anti-inflammatory properties that support immune function.
An excellent source of Vitamin D, important for bone health and immune function.
Recipe
The Goods: Quinoa Shiitake Mushroom Cakes
2 cups quinoa, rinsed and drained (I used red quinoa)
4 cups water
2 Tablespoons olive oil
1 white or yellow onion, chopped
3 cloves garlic, minced
1 shallot, minced
12 shiitake mushrooms, stems removed and chopped
2 Tablespoons dry white wine
1/2 cup dried bread crumbs
2 Tablespoons fresh oregano leaves, chopped
sea salt, to taste
black pepper, to taste
The Goods: Dijon Maple Glaze
1/4 cup lemon juice
1 teaspoon powdered mustard
1/4 cup olive oil
1/4 cup flax oil
2 Tablespoons red onion, finely minced
1 Tablespoon dijon mustard
2 teaspoons pure maple syrup
1/2 teaspoon garlic, crushed
1/2 teaspoon sea salt
Directions for Dijon Maple Glaze: In a small bowl, whisk the lemon juice and powdered mustard. Add the oils, red onion, dijon mustard, maple syrup, salt, garlic and whisk. Yields 1 cup.
The Magic: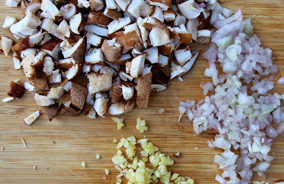 STEP 1: First, preheat the oven to 350 degrees. Next, bring water for quinoa to a boil. Add quinoa and reduce the heat to simmer. Cook covered for 20 minutes. While quinoa is cooking, chop onions, shallots, garlic, mushrooms and oregano leaves. Set aside. Once veggies and mushrooms are chopped, heat the olive oil in a sauté pan over medium heat.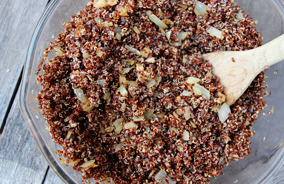 STEP 2: Add the mushrooms to saute pan with olive oil and cook for approximately 3-5 minutes. Pour wine over mushrooms after 3 minutes and let cook until most of the wine has been absorbed. Set mushrooms aside. Add the garlic, shallots, onions to pan and cook until caramelized (lightly browned). In a large bowl, combine the quinoa, mushroom, onion mixture together.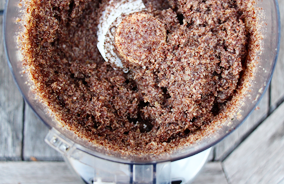 STEP 3: Transfer half of the mixture to a food processor and blend until it becomes sticky. Return the blended mixture to bowl to mix with the unblended mixture. Stir in bread crumbs, oregano, sea salt and pepper.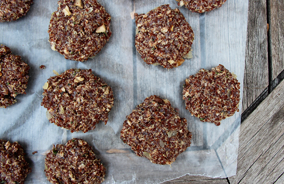 STEP 4: Form the mixture into mini cakes 3-inch by 1-inch and place them on a lightly greased baking sheet. Bake until cakes are crispy, approximately 10 minutes. Serve over sautéed greens (I used mustard greens) and drizzle with Dijon Maple Glaze. Enjoy!