BREAKFAST PUDDING FOR THE PEOPLE
Quinoa – a nutrient-rich seed that contains essential amino acids and is a great source of protein. It's considered the "Mother Grain" is a great source of dietary iron which is integral to energy production. It's a complete plant protein containing essential amino acids, including lysine, which
is necessary for good health. One cup of cooked quinoa provides approximately 8 grams of protein. (For vegetarians, this is a good way to get protein without worrying about food combinations.)
This particular recipe was inspired by a book called Decolonize Your Diet, by Luz Calvo and Catriona Rueda Esquibel who's research for their creations drew upon Mesoamerican cuisine demonstrating ways home-cooked meals carry, history, memory, and stories, and connect people to their ancestors – Latinas/os in particular. It's a book that is part of a larger movement utilizing ancestral knowledge to help communities of color respond to the public health crisis and the decimation of our food system's foundation, brought upon by the industrialized, Western diet.
The collective goal of their efforts is to empower people to choose wholesome foods to improve the physical and spiritual health of families, communities and mother earth. Luz Calvo and Catriona Rueda Esquibel do a wonderful job of sharing delicious plant-based recipes to connect, nourish and inspire ways to prepare delicious Mexican American dishes for positive social change.
---
"The recovery of the people is tied to the recovery of food, since food itself is medicine, not only for the body, but for the soul, and for the spiritual connection."
Winona LaDuke  Phat Beets Oakland
---
Recipe
The Goods
1 cup quinoa
1 cinnamon stick
1 star anise (optional)
1 long strip lemon peel
4 cups nut milk, unsweetened
1/3 cup pure maple syrup, grade b
1/4 cup currants
1/3 cup toasted coconut (optional)
1 tsp vanilla extract
dash sea salt
ground cinnamon for sprinkling
The Magic: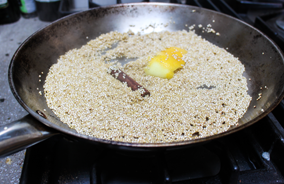 STEP 1: Bring a medium sized saucepan with 2 cups of water to a boil with the cinnamon stick and star anise. Reduce heat and simmer for 10 minutes. Remove from heat. Place quinoa in a fine-mesh strainer and rinse under running water until to remove the saponin (a naturally occurring chemical that coats every tiny grain of quinoa). Heat a dry saucepan to medium heat, add quinoa to gently toast, stirring until it dries out approximately 5 minutes.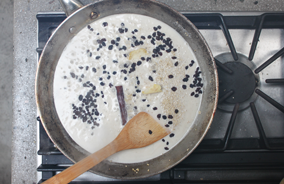 STEP 2: Add the cinnamon/star anise to water, add lemon peel and salt and bring to a boil. Reduce the heat to low, cover and cook for 15 minutes, until all the water is absorbed. Add the nut milk, maple syrup, and currants. Increase heat and return to a boil. Reduce heat to low and cook uncovered at a low simmer stirring regularly for approximately 15 minutes. Remove from heat. Add the vanilla and remove the lemon peel, cinnamon stick and star anise. Taste and adjust sweetness. Serve and sprinkle with cinnamon.