A FATHER'S DAY TREAT
From my heart to a delicious raw chocolate-cherry mini tart. Dad, these healthy divine delights are for you. The unadulterated cacao powder in this recipe not only promotes cardiovascular health, it also offers protection from environmental & metabolic toxins. Lots of love & goodness in this recipe that's going out to all Dad's today & everyday! Happy Father's Day.
Recipe
The Goods: Crust
1 cup walnuts
1 cup shredded coconut
7-8 pitted dates, soaked in water until soft
sea salt, dash
The Goods: Chocolate Mousse
3 avocados
1 tsp vanilla extract
6 Tbsp maple syrup
4 Tbsp raw cacao powder
pinch of cinnamon
pinch of sea salt
The Magic: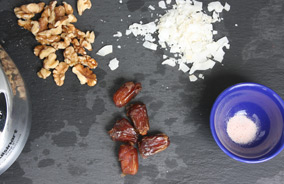 STEP 1: For the crust: Place all ingredients into a food processor & process to reach a consistency that is slightly chunky.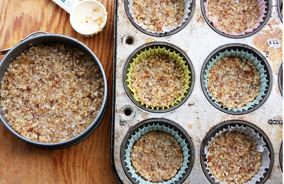 STEP 2: Use mold of choice (muffin tin or spring form pan, etc). For muffin tin: Dole out 2 Tbsp of crust mixture into each cup and press firmly into mold. Place into fridge for one hour.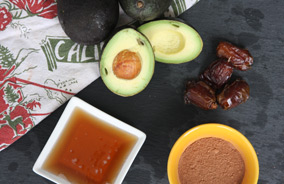 STEP 3: For chocolate mousse: Place all ingredients into food processor with the S-blade and process until creamy. Scoop desired amount of chocolate mousse onto each mini tart, top with cherries or other favorite berries. Chill for a bit before serving.
Mindful Morsel
Raw cacao has up to four times the amount of antioxidants found in green tea. Cacao has been shown to increase blood flow to the brain, heart and other organs* helps to reduce PMS symptoms, and promotes a sense of well-being.
Additonal Bonus...
Found in chocolate, phenylethylamine is created within the brain and released when we are in love. Acts as a mild mood elevator, and helps increase focus and alertness.