A SEED THAT INCREASES YOUR SEX LIFE…
I thought that might get your attention. And it's true! Nutritionally speaking, these super-star wonder seeds bring a lot to the table (and the bedroom!) The oils in these seeds not only support normal sexual function but also help protect against heart disease. Although these little green gems aren't as sexy as dark chocolate-covered strawberries, their ability to stimulate sensory excitement are heightened because the high zinc levels increase our ability to taste and smell. And if that's not enough, zinc also helps keep depression at bay. YES! YES! YES! Wait, there's more…
Packed with omega-3 fatty acids, pumpkin seeds work their magic to give you clear, radiant skin that's smooth to the touch. And don't be surprised when their ultra-violet radiation protection powers are released this summer due to (once again) the mighty zinc mineral.  Are you excited yet? Great, now try them and see for yourself all the wonderful results.
Kitchen tip:  Enjoy within 2 weeks with roasted spaghetti squash or your favorite fish, mixed into salads or tossed other veggies. You're going to love it!
Recipe
The Goods:
 2 cups raw pumpkin seeds (aka pepitas)
1 cup extra virgin olive oil
1/2 cup parsley
1/2 cup basil
1 lemon, juice only
1/3 cup nutritional yeast
1/2 tsp sea salt or more
3 garlic clove
goat cheese, optional
The Magic: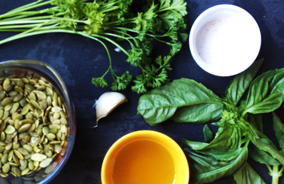 STEP 1:Thoroughly rinse basil and parsley and remove garlic clove from skin.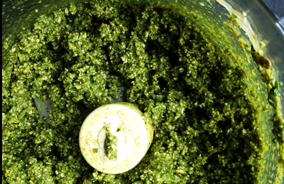 STEP 2:Place basil, parsley, lemon juice, nutritional yeast, sea salt and garlic into a food processor to process. Slowly add the olive oil and continue to puree until the mixture resembles a paste. Spread pesto on your favorite baugette and cook on top rack in the oven for 5 minutes or until bread is slightly toasted.