THE POWER OF CREATIVE PLAY
In search of fun and creative way to introduce zucchini to children for a nutrition education program I taught this summer, I immediately thought of a simple go-to: zucchini pasta! I had never worked with this age group (4th – 6th graders) so I was a little nervous and unsure of their response to my zucchini experiment. I decided my goal would be to introduce it in a way that would capture their attention and maybe, just maybe, they'd eat it and enjoy it.
Here's a breakdown of what I did it:  I brought my spiralizer (a tool that cuts veggies and fruits into curly, ribbon-like slices). They got curious and inspected it. Then I showed them how I made long noodles with it.  They were mezmerized and began to play with it. We then garnished it with colorful edible flowers and they were in awe of their creation. The adults supporting the class even joined in on the fun! Before I knew it everyone was eating it and liking it. Mission accomplished! I hope you do too.
NOTE: The taste of zucchini is extremely mild and it will absorb the flavor of whatever sauce you use. Make sure you pick a favorite.  A simple tomato sauce, pesto, or dressing will create a light entree or simple summer side.
*A very special thanks to Brian's Farmer's Market who provided an abundance of zucchini (and more!) for this 6-week program, to Farmer Bill for donating resources and time, to Feeding America for teaming with local farmers to provide fresh fruit, and UCSD Pediatrics for the opportunity. Your efforts are helping children live healthy, happy lives. Thank you, thank you, thank you… for everything.
Recipe
The Goods: Zucchini Pasta
6-8 large zucchini (1 zucchini per person)
cherry tomatoes (optional)
edible flowers (optional)
 The Goods: Avocado-Cucumber Dressing
1 medium avocado
1 cucumber, peeled and sliced thick
1 lemon, juice of
2 garlic cloves
2 scallions
1 Tbsp extra virgin olive oil (optional)
1/4 tsp black pepper to taste
sea salt to taste
a few large leaves of basil (3-5)
dash of cayenne pepper for a kick (optional)
 Makes approximately 1 cup of dressing.
The Magic: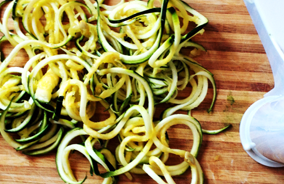 STEP 1: Prepare your zucchini noodles julienne style with a vegetable peeler or spiralize. Or cook your pasta of choice, approximately 8 ounces.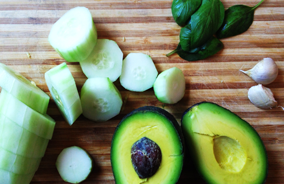 STEP 2: Add all ingredients for dressing to blender or food processor and mix thoroughly. Taste for flavor and adjust as needed. Toss with zucchini and enjoy!