YOU ARE A LOVE MUFFIN
I love beets. I had a long stint without feeling the love for these marvelous medallions, however. And once you hear what they have to offer, you might just find yourself falling head over heels too. A versatile addition to the veggies in your kitchen, beets can be turned into a health-bursting elixir, a tasty raw salad, colorful pasta or roasted side. When consumed regularly as a beverage or in whole form, they can lower blood pressure, act as a detoxifier, boost your immunity…and if you're an athlete, they may help you shave some time off your next race. Some studies show that their high nitrate content eventually transforms into nitric oxide increasing blood flow to the muscles, thus improving stamina. And since beets are a good source of nitrates, they're a perfect addition to the athlete's kitchen.
Are you feelin' the love, muffin? I hope you enjoy these muffins made with love and share with those you care. xo.
Recipe
The Goods:
The Magic: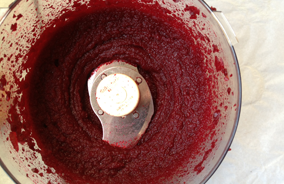 STEP 1: In a small pan, bring water to a boil over high heat. Slice beet into quarters. Add the beet slices to boiling water or place into steaming basket, cover the pan, reduce heat to medium, and cook until a knife can be inserted in the center. Time will vary depending on the thickness of the slices. Drain the water and let the beet cool enough to handle. Peel and puree in the food processor. Measure out 1/4 cup beet puree. You can freeze the rest for another time or add to smoothies or juices.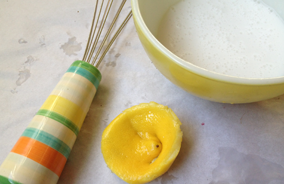 STEP 2:Pre-heat oven to 350F. Mix the coconut milk and lemon juice in a bowl and let stand for 5 minutes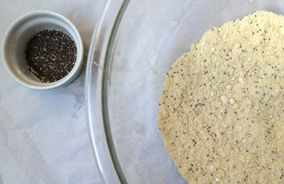 STEP 3:In a large bowl, whisk together the coconut flour, almond flour, chia seeds, baking powder, baking soda, and salt.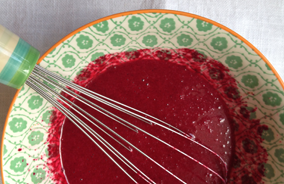 STEP 4:In a seperate medium bowl, whisk together the egg, coconut sugar, vanilla seeds, coconut milk mixture, coconut oil, and beet puree.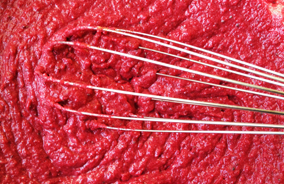 STEP 5:Pour the wet ingredients over the dry and whisk to combine. Scoop the batter into muffin pan lined with baking papers. Bake for approximately 20 minutes until toothpick inserted in the center comes out clean. Cool on a cooling rack.