COMFORT ZONES AND EGGPLANT
This particular recipe is more involved than most, however, lately, I've been trying things outside my "comfort zone." So, I went with it. Turns out, the kitchen can be a great space for developing a practice of comfort zone crossing! I like to think of it as my own private labratory for expanding beyond the of the same old same old.  Sometimes I want to go there, other times I don't. This week, however, I was feeling it.
Stretching into new territory involves looking at current things that can halt that "stepping out" process – thoughts, fears, inhibitions, overwhelm, you name it. So in a sense, the kitchen can become a space for shedding light on things that can be drummed up in the mind.  In this case, I felt a bit overwhelmed.
In paying attention to these thoughts and moving through them is where the stretching starts – bit by bit. It may not turn out how you expect, but being okay with the outcome is the secret sauce. It can be uncomfortable at times – it is for me anyway. However, in my efforts to stretch beyond my comfort zone is where I experience the benefits of my efforts. It may feel overwhelming, but is well worth the effort. You know, like this recipe. ; ).
This week I used eggplant, lentils and mushrooms to concoct a delicious side or main course meal. Eggplants contain a powerful free radical scavenger that has been shown to protect cells from oxidative damage. It not only offers the heart and brain protective abilities, it provides sleep-promoting benefits from tryptophan too. I hope you enjoy!
Recipe
The Goods: Eggplant
4-5 Japanese eggplant, halved
2 garlic cloves, minced
2 teaspoon coriander
1 teaspoon chili flakes
1 teaspoon smoked paprika
2 tablespoons fresh lemon juice
3/4 cup extra virgin olive oil
dash of sea salt
The Goods: Lentil, Mushroom Filling
1 cup uncooked red lentils
1 large yellow or white onion, chopped
1 8 oz container of baby bella mushrooms
1 1/2 teaspoons dried oregano
1 1/2 teaspoons ground cumin
1 1/2 teaspoons chili powder
2 Tablespoons extra virgin olive oil
dash of sea salt
fresh oregano for garnish
The Goods: Cashew Sour Cream
1 cup raw cashews, soaked
1/2 water
2 teaspoons fresh lemon juice
1 teaspoon apple cider vinegar
1/4-1/2 teaspoon of sea salt
*Vegan Sour Cream by Oh She Glows
The Magic: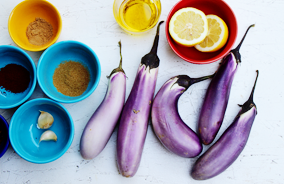 STEP 1: Gather all ingredients to prepare the eggplant. Prepare the eggplant by mixing together in a small bowl - garlic, cumin, coriander, chili, paprika, lemon juice and olive oil. Set aside. Pre-heat oven to 375 degrees.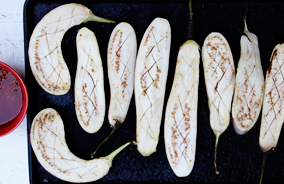 STEP 2: Cut eggplants in half lengthwise. Score the flesh of each half with deep, diagonal criss-cross scores.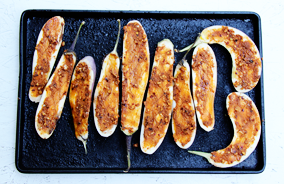 STEP 3: Spoon the spice mixture over each eggplant half, spreading it evenly and place on a baking sheet cut-side up. Place in the oven and roast for 40 minutes.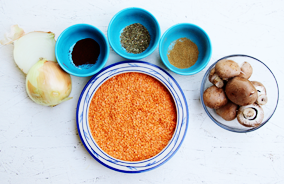 STEP 4: While the eggplant is cooking, gather all ingredients for the filling - red lentils, onions, mushrooms, dried oregano, cumin, chili powder, olive oil, sea salt. Cook lentils and set aside.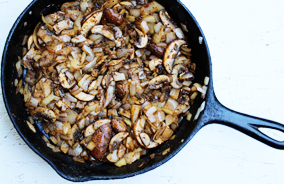 STEP 5: Next, saute onions until slightly translucent (approx 5 minutes), add the mushrooms and saute for another 5 minutes. Add the dried oregano, cumin, chili powder. Combine the cooked lentils into the pan and mix well. Load the filling onto roasted eggplant halves, drizzle with the vegan sour cream and garnish with fresh oregano and paprika. Serve and enjoy!