A NUTRITIONAL WONDER FOOD…
While many think of quinoa as a grain, these grain-like pods are actually edible seeds native to Peru and related to beets, chard and spinach. Most people are familiar with the standard cream colored seed type of quinoa however, other colorful varieties are available. Red & black quinoa have a slightly crunchier consistency containing antioxidant-rich phytonutrients called anthocyanins which are present in the pigment. Anthocyanins act as powerful antioxidant and anti-inflammatory agents in the body. Since our modern lifestyle has caused many people to become chronically inflamed due to stress, nutritional deficiencies and increased toxins in the environment, these little pods can help work wonders in countering those effects.
Recipe
The Goods: Salad
1 cup dried red quinoa (rinsed through a mesh strainer)
2 cups of water
1 cup of cherry tomatoes
1 cup cucumbers, chopped
1 avocado, chopped
1/2 cup fresh basil
The Goods: Miso Ginger Vinagrette
3 Tbsp red wine vinegar
3 Tbsp fresh orange juice
3 tsp miso
1 Tbsp extra virgin olive oil
1 tsp ginger root, finely grated with skin removed
The Magic: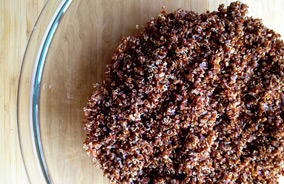 STEP 1:Wash quinoa well before cooking, as it's natural saponin coating is somewhat bitter, and is not always fully removed during processing. After rinsing, in a medium size pot bring water to a boil, cover and turn down heat for 15 minutes until quinoa fluffs. Set aside.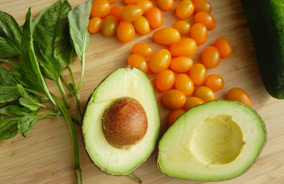 STEP 2:Gather all fruit & vegetables for the salad, chop and set aside.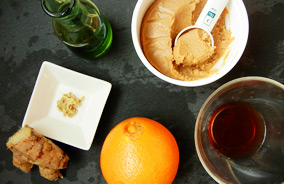 STEP 3:Measure all ingredients for the dressing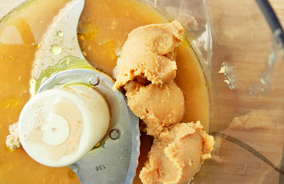 STEP 4:Transfer to food processor and blend until smooth.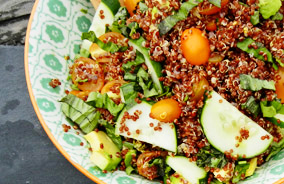 STEP 5:In a large bowl add cooked quinoa, tomatoes, cucumbers, avocado and basil. Toss with dressing and serve.
Mindful Morsel
Quinoa is a complete protein, meaning it includes all essential amino acids. It also contains the amino acid lysine, which is essential for tissue growth and repair, and is a good source of manganese, magnesium, iron, copper and phosphorous.