ALTHOUGH I GREW UP WITH IT, love eating it, and admire its array of many colors, I've just never cooked with rhubarb – until now! I noticed the rosy celery-like stalks at my summer market, and, thinking how similar it looked to Swiss chard, my interest was piqued and I brought it home.
Not sure where to start with the stuff, I first did a little research! It turns out, rhubarb is a good source of Vitamin K and C and is a vegetable related to the buckwheat family. With a little experimentation, I quickly learned why rhubarb is seldom eaten raw – rhubarb's raw, mouth-puckering tartness is not a pleasant taste. However, when this vitamin-packed veggie is cooked and sweetened, it blossoms into a delicious balance of flavors that will leave you pining for more!
This pie-in-a-jar recipe is an easy way to transform this so-called "pie plant" into a delectable dessert that's truly heaven in a jar! Note the use of coconut sugar and organic yogurt to keep this decadent dessert pure and healthy for your BBQ'ing crowd!
I hope you enjoy.
Recipe
The Goods: Filling
1 cup blackberries
2 cups rhubarb, cut thinly
1 tablespoon coconut flour
1/2 cup coconut sugar
The Goods: Crumble Topping
1 cup rolled oats
1/2 cup pecans, chopped
1/3 cup coconut sugar, packed
1 teaspoon cinnamon
1/4 cup coconut flour (or flour of choice)
1/4 cup coconut oil
*I used Weck Tulip Jelly Jars for serving. They make a great serving size container for this delicious treat.
The Magic: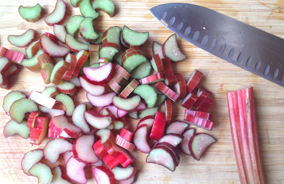 STEP 1: Preheat oven to 350F. Prepare Filling: combine blackberries and rhubarb with 1 tablespoon flour and 1/2 cup sugar. Pour fruit mixture into an ungreased 1.5 quart loaf pan.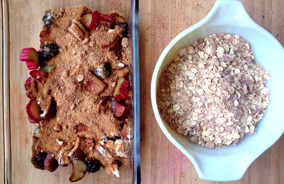 STEP 2: Prepare Crumble Topping: mix dry ingredients—oats, pecans, sugar, cinnamon, and flour with 1/4 cup of coconut oil and combine thoroughly. Sprinkle crumble mixture over fruit filling and bake for 35 minutes, or until crumble is golden brown and fruit mixture is warm and bubbly. Remove from oven and cool slightly. Place in a serving jar and layer the crisp mixture with Greek yogurt, plain (displayed above), ice cream or, your favorite whipped cream. Serve and enjoy!