GETTIN' HOT AND HEALTHY!
Winter is in full swing in San Diego – it was 37 degrees here this morning! And since these record breaking cold temps are not typical, I'm doing everything I can to stay warm and sick-free. This weekend I cranked up my heater, turned on my oven and got busy in the kitchen.
A great way to keep your immune system in good working order is to overpower infection-causing intruders through a diet rich in antioxidants. By doing this, inflammation in the body is reduced and the immune system remains strong. Enjoying a plant-based, whole foods diet, that is low in saturated fats, refined grains and added sugars is like stepping into an invisible protective shield – the more it's practiced, the stronger your shield will be. Dark, leafy greens like swiss chard, kale and collards is where you will discover storehouses of antioxidants chock-full of inflammation-thwarting effects that are key to good health.
This recipe takes a little more time to prepare than most, which is why I've labeled it "hard". Now that we've entered cold and flu season, taking extra time to protect yourself will pay off as you begin a regular practice of eating your medicine! It's the best health insurance out there. Enjoy!
Recipe
The Goods:
The Magic: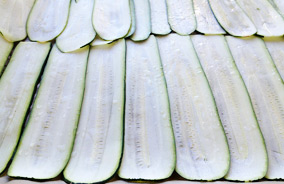 STEP 1:Slice zucchini into thin ribbons using a vegetable peeler, mandolin OR slice into thin rounds with a knife. Lay slices of zucchini on a flat surface, sprinkle with sea salt and set aside. *The water content in zucchini is very high. This technique extracts water causing them to weep so the lasagna doesn't accumulate too much liquid.
STEP 2:Chop swiss chard, mushrooms and tomatoes and mince garlic. Heat olive oil in warm skillet, add garlic and saute over medium heat for 3 minutes. Add mushrooms cook for an additional 5 minutes. Next, add the swiss chard and saute for 3-5 minutes. Set aside. Once cooled, press excess water from swiss chard and mushroom mixture. Follow instructions to boil lasagna, rinse with cold water, drain well and set aside.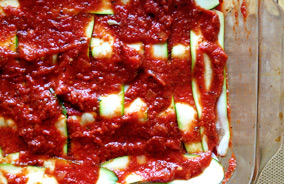 STEP 3:In ungreased baking pan (13"x9"x2"), or baking dish (11-3/4"x 71/2" x1-3/4"), pour 1/3 tomato sauce onto bottom of pan. Place 3 lasagna sheets on top of sauce. Next, use a napkin or paper towel to absorb excess water excreted from the zucchini and layer over lasagna noodles.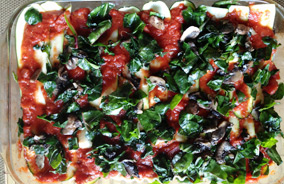 STEP 4:Next, layer 1/3 the swiss chard and mushroom mixture. Repeat with 1/3 sauce, 3 lasagna sheets, zucchini slices, 1/3 swiss chard and mushroom mixture. Add remaining lasagna sheets, zucchini, greens and mushrooms, tomato sauce and top sliced tomatoes. Sprinkle with oregano and add a little parmesean and/or ricotta cheese to finish.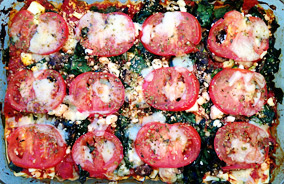 STEP 5:Cover and bake for 40 minutes. Remove cover for the last 10. Let cool for for a few minutes top with pine nuts and enjoy!
Mindful Morsel
If we share with caring, lightheartedness, and love we will create abundance and joy for each other. And then this moment will have been worthwhile.
-Deepak Chopra, from The Seven Spiritual Laws of Success