NOT YOUR TYPICAL TACO
Tacos bless us with a multitude of options for breakfast, lunch, dinner, even dessert.  They are simple, easy to make and endless when it comes to creative combinations that are authentic, festive and flavorful. Tacos are all about getting your creative juices flowin' and this recipe is intended to help do just that!
Uncovering ways to push the taco envelope when it comes to tasty ingredients can be a fun endeavor.  This particular recipe was adapted from and inspired by Lauren Godfrey's colorful and creative cookbook Tacolicious. It is loaded with wilted garlic greens, black beans, sweet butternut squash, savory cumin cashew cream cheese and finishes with a tasty taco pepita (aka pumpkin seed) crunch. Here are some additional taco meal ideas:
Breakfast tacos – Fill with roasted heirloom potatoes, spinach, scrambled eggs, seasoned pinto or black beans, wilted garlic greens like collards, kale, spinach or even fresh sprouted micro greens.
Lunch/Dinner tacos – Fill with hearty roasted sweet potatoes, Portobello mushrooms, black beans, crispy cauliflower, lentils, falafel, and roasted veggies.
Dessert tacos – Create pancake tacos, fresh berry tacos, cinnamon and ice cream tacos, dark chocolate, banana split with toasted almonds tacos. Ummm!
The varieties and combinations of taco creations can be extremely diverse and fun to play  around with.  What entices you to enter into new taco territory? Want to taco 'bout it?  I would love to hear in the comments below!
---
Recipe
Special note: I would suggest preparing the Cashew Cumin Sour Cream in advance.
The Goods: Tacos
1 butternut squash, peeled, seeded and cubed
1 teaspoon of grapeseed oil
5 cups spinach, chopped
2 garlic cloves, minced
2 teaspoons chili powder
1/2 teaspoon cayenne pepper, optional
sea salt, a few dashes
1 can black beans, rinsed and warmed
sprouted corn tortillas, warmed
1/2 cup pepitas (aka pumpkin seeds)
The Magic:
STEP 1: Gather all ingredients together and pre-heat oven to 400 degrees. To prepare the squash, remove the outside skin with a vegetable peeler. Next, cut the squash in half lenghtwise and scoop out seeds.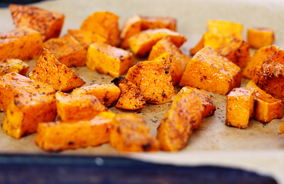 STEP 2: Cut squash halves into fourths and then begin cutting into cubes. Drizzle with oil and season with chili powder, cayenne pepper and sea salt. Bake for 20-25 minutes.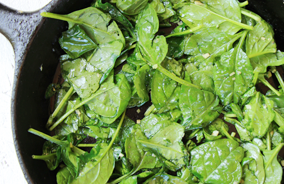 STEP 3: In a cast iron skillet, add a little oil and saute garlic for 3-5 minutes. Add spinach and cook for an additional 5 minutes or until spinach is just wilted. Use tongs to turn the spinach making sure all leaves are lightly cooked. Warm the sprouted corn tortillas and black beans over stovetop. Divide tortillas among plates, add spinach, blackbeans and squash. Drizzle with cashew cumin sour cream and top with pepitas. Toppings such as avocado, cilantro and fresh lime make great additions. Serve immediately.