A CUP OF HEALING POWERS
I was never a big curry eater growing up but, as an adult, I'm all over it. Having learned about the healing powers of spices over the years, I began experimenting with ways to add them whenever possible. I especially double up on them during cold and flu season. This particular dish is chock-full of spices but I want to highlight the benefits of one in particular: turmeric. A brightly colored relative of ginger, turmeric is probably the most powerful natural anti-inflammatory agent discovered so far*. It appears to:
Outperform many pharmaceuticals in its effects against several chronic, debilitating diseases
Enhance the liver's detoxification of nutritive substances
Plays a protective role in Alzheimer's disease by clearing plaque that obstructs cerebral function
How do you use it? Add turmeric to curries, soups, stir-fries, salad dressings or make tea with it! Turmeric tea is a common tea in Okinawa, the island nation with the world's longest average life span. To make at home, get the recipe here.
Recipe
The Goods: Roasted Carrots
8-10 large organic carrots, sliced in half lengthwise and chopped into chunks
6 cloves garlic, skin removed
2 Tbsp Tamari soy sauce
2 Tbsp grapeseed oil or coconut oil
The Goods: Soup Fixin's:
1 Tbsp coconut oil
2.5 tsp of curry powder (or 1 tsp turmeric, 1/2 tsp cumin, 1/4 tsp coriander, 1/8 tsp cloves, 1/8 tsp ginger)
1 QT free range chicken broth (without sugar or cane juice) or vegetable broth
1/2 cup filtered water
Celtic sea salt to taste
Although Turmeric is a staple ingredient in curry powder, I always add a little extra when making curries or soups.
The Magic:
STEP 1:Pre-heat oven to 350 degrees. Cut carrots in half lengthwise and then into chunks. Place the carrots and garlic in baking dish and coat evenly with Tamari soy sauce and grapeseed oil. Bake covered for 1 hour for until carrots are tender. For the last 10 minutes of cooking increase oven temperature to 450 degrees, remove cover, and roast until carrots turn a slight brown color along the edges. Once roasted, set aside to cool.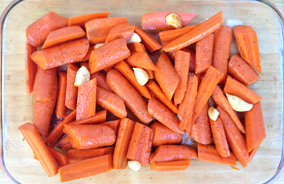 STEP 2: Once carrots have cooled, set aside 1 cup of cooked carrots. Place remaining carrots to a high speed blender along with organic chicken broth or vegetable broth, spices and coconut oil. Blend on high until smooth. Transfer carrot soup to a sauce pan, add remaining carrots, heat and top with your favorites! I added avocado slices for extra creaminess and a hint of goat cheese for a savory finish. Add more veggies or organic rotisserie chicken chunks for a heartier meal. Serve and enjoy!