AN UNLIKELY ESSENTIAL FROM PLANTS
Cauliflower is a great source of plant-based amino acids along with other cruciferous veggies – cabbage, broccoli, Brussels sprouts and kale. In addition to asparagus, spinach, sprouts, nuts, legumes and seeds you'll find plenty of plant foods that when eaten in abundance fulfill protein requirements when a variety are consumed according to The American Dietetic Association. In addition "research indicates an assortment of plant foods eaten over the course of a day can provide all essential amino acids and ensure adequate nitrogen retention and use in healthy adults; thus, complementary proteins don't need to be consumed at the same meal." Since amino acids are the building blocks of proteins, I wanted to explore this topic a bit further. Protein helps stimulate the production of the brain chemicals norepinephrine and dopamine, which, like serotonin, are neurotransmitters and carry impulses between nerve cells. Amino acids can either excite or calm the brain and their impact can be reflected in your emotions and behavior.
The belief that plant sources do not provide adequate amounts of protein is simply a lack of information around research supporting it's findings. I currently enjoy a primarily plant-based diet, however, this has changed during different times in my life. I believe this to be unique for each individual. I personally believe each person knows what is best for him/herself based on how foods make them feel, so a flexible and curious mindset is helpful in learning what works best. Paying attention to what you eat to discover how you feel afterward can be very telling.
I'd love to get your insights around this topic. Have you experimented with different sources and how they made you feel? Sluggish? Energized? Calm? If so, what primary form of protein did you consume? Has this been the case your whole life or at different times? Some food for thought.
This particular recipe marries a variety of flavors including the sweetness of figs, the saltiness of olives and the nutty flavor of cauliflower. Top that with a garden of fresh herbs with a lemony twist and you have a delicious array of flavors to enjoy. The best way to bring out cauliflowers nutritional benefits is to lightly cook, however, with roasting, though the nutritional quality is slightly compromised, the nutty flavor really shines through. A nice preparation method to add to your arsenal of ways to enjoy it!
*Recipe adapted from Brooklyn Supper
Recipe
The Goods: Cauliflower
1 head of cauliflower, cored and cut into 1/2 inch florets
2 Tablespoons of extra virgin olive oil
1 cup kalamata olives
6-8 figs, halved
The Goods: Fresh Herbs
1 garlic clove
1/4 cup extra virgin olive oil
1 cup mixed herbs (parsley, oregano, thyme)
1 Tablespoon fresh lemon juice
The Magic: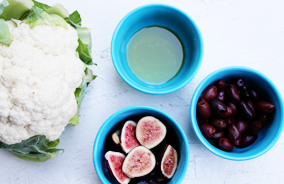 STEP 1: Gather ingredients and prepare the cauliflower. Pre-heat oven to 450 degrees.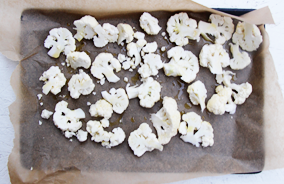 STEP 2: Core and cut the cauliflower. Place on a pan lined with parchment paper and drizzle with olive oil. Place in the oven and roast for 20 minutes. After 20 minutes, flip the florets and add the olives. Place in the oven for another 10 minutes.
STEP 3: While the cauliflower is cooking, gather herbs for the fresh herb mixture. With a microplane, grate the garlic and mix with salt to form a paste. Or morter and pestal and smash garlic and add a dash of salt.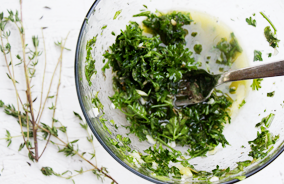 STEP 4: Add fresh herbs, lemon juice and extra virgin olive oil and mix with fork. Add salt and pepper for desired taste.