SPAGHETTI THAT'S A VEGGIE
Spaghetti squash is considered a winter squash that typically contain greater amounts of natural sugars, carbohydrates and vitamin A. Using spaghetti squash in place of pasta is a simple way to incorporate more veggies while introducing new flavors and textures. And it's fun!
Sweet and yellow in color, the texure is very similiar to spaghetti strands and is incredibly light and delicious! Try garnishing with other veggies, a little Parmesean cheese or any one of a number of sauces, such as pesto, curry or tomato sauce. The strands may also be formed into patties and sauteed in extra virgin olive oil or coconut oil, if you prefer. Enjoy!
Recipe
The Goods: Roasted Spaghetti Squash
2 medium size spaghetti squash
3 Tbsp extra virgin olive oil
Sea salt
Black pepper, freshly ground
The Goods: Raw Pumpkin Seed Pesto
2 cups raw pumpkin seeds (aka pepitas)
1 cup extra virgin olive oil
1/2 cup parsley
1/2 cup basil
1 Tbsp fresh lemon juice
1/2 tsp sea salt or more
1 garlic clove
The Magic:
STEP 1:Cut both squash lengthwise with a sharp knife. Be sure to take your time and slice both squash carefully in half. With a fork, scoop out the seeds and discard. Drizzle with olive oil and season with salt and pepper. Preheat the oven to 425°F. Place squash on roasting pan with flesh side is up.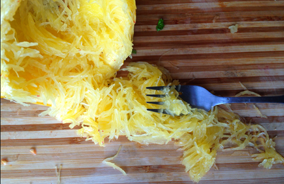 STEP 2: Roast for about 40 minutes or until a fork punctures the flesh easily.
Remove squash from the oven and allow it to cool for about 5 minutes. With a fork, scrape the flesh from the squash into "noodles" and place in a serving bowl or on plate. Top with your favorite herbs and sauces.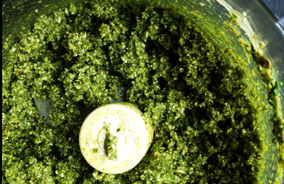 STEP 3:Place basil, parsley, lemon juice, sea salt and garlic into a food processor to process. Slowly add olive oil and continue to puree until the mixture resembles a paste.