GOLD FOR THE SOUL. This delightful snack is my favorite addition to salads, soups, curries – anything you can think of, really. Pumpkin seeds (aka pepitas) are higher in protein than many other seeds, they're a great source of tryptophan (with it's natural calming effects), zinc, iron, omeg3-fatty acids, calcium and B vitmins. Sprinkle them with what is believed to be one of the most potent herbs on earth – turmeric. Once you give a taste to these crunchy gems, your body, mind and soul will be beaming with delight!
Many know that turmeric is extremely potent due to it's main healing compound called curcumin. Here's a glimpse into it's healing abilities:
supports a healthy inflammtion response
promotes positive mood
helps maintain healthy joints
helps maintain the cardiovascular system
This particular seed/herb combo sets the stage for great absorption especially due to the combination of fats and pepper. Enjoy!
Please note: Ideally nuts and some seeds should be soaked before you eat them. This neutralizes naturally occurring enzyme inhibitors and aids in digestion and absorption. Pepitas need to be soaked in water for 4-6 hours before roasting.
---
Recipe
The Goods
1 cup pepitas, soaked for at least 4 hours
1 Tbsp turmeric
Pink Himalayan sea salt
Black pepper
The Magic: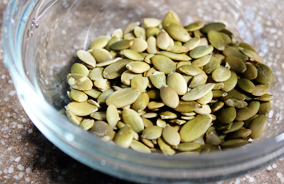 STEP 1: Preheat ove to 325 degrees. After seeds have been soaked for 4-6 hours, drain after soaking and toss seeds in a bowl with the turmeric, sea salt and pepper.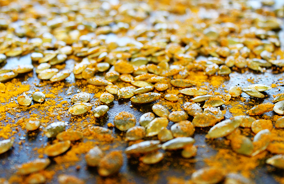 STEP 2: Spread the seeds in a single layer on a baking sheet (add extra turmeric, if desired) and bake for about 20 minutes or until golden brown; stir occasionally.